4th of July Star & Stripes Dog Collar
Reviews
Our reviews are verified for authenticity
Lover the collars so far. I originally wanted a more themed collar, but for my Bulldog which is only a year old, I needed something that would fit his neck and this was the best collar I could find, in stores or online that was even close to being themed. I have to say I very impressed with them, they are very sturdy, they are not rough around the edges, which can irritate their neck from rubbing, so far not had that problem. I usually buy other collars, but they are very expensive but have a lifetime guarantee. With my dogs, I don't really need them. So since I found these, I think that I will still like this brand. So glad I found something and somewhere to purchase collars for my Bulldog especially because he is still growing and will need another collar in another month. So be looking for more orders on collars. Thank you for making such a well made and comfortable collar for my dog!

I bought four of these collars for our four dogs. We were looking for a collar that we could use to interchange out while we washed their other collars. I thought it would be cute for them, plus my teenage son loves anything with the American flag on it. We just got them so I cannot review how well they will stand up, or ease of cleaning, as they are currently undergoing their first use. So far they have been very easy to adjust to put on the puppers. We are very happy that the clasp is plastic as one of our pups does have a skin sensitivity to metal.

I ordered this specific collar due to the American Flag/Eagle design. I was not disappointed! The design itself is great, and the collar's construction is durable and easy to use. I have tried multiple times to switch my pup to a harness style and he demands to go back to an old fashioned collar every time. I look forward to ordering more collars from this company in the future! Thanks for a great product!

Decided we needed to have a collar for backup and daily wear along with a harness for walking. I searched and found this one, was hesitant to order online and took a chance. It fits perfectly and is just right, I was worried it was going to be too thin, is just right. Love it! Sturdy, well made, fits perfect. He looks very handsome in it! I would buy it again, however I believe it will last, unless we lose it.

We LOVED the American Flag collars, ordered 2, the size chart was perfect. Thank you for your great products, good sizing and hope we can help you to grow. We will tell all our friends, employees, and guests. Tried to get some pictures but no luck, dogs move too much and are shedding

The collar is well made and seems of good quality, durable materials. Dexter is proud to be an American (even though he was born in Canada,lol) and we enjoy dressing him up In red, white and blue for the holidays in this collar. I would highly recommend this product and would not hesitate to purchase from this seller again.

Be proud and show how much you and your dog are lucky to live in America!!! Great summer collar and leash!! Well made!!! Comfortable - no stiff or sharp edges on the dogs necks! Great value!!!

We ordered the medium size collar for our (fastly) growing lab puppy. He is about 15 lbs and it fits perfectly with lots of room to grow with him. The colors look great against his black fur. The quality seems really nice. The price is reasonable and the design is the best!

Love how bright the colors are on this collar. The print of the flag is great. The material feels and looks sturdy, the clasp is sturdy as well and does not pop apart. I will order from this company again

Sooo many compliments on this! Love it!

We love this collar so far. So far we are impressed with the collar which is sturdy and attractive, and comfortable for the dog! The price is attractive, and this is a well-made and apparently comfortable collar for my growing dog! Highly recommended!

Very nice collar for a great price!

Great durable collar. The last one we purchased my dog burst through after a squirrel and the collar unlatched, but didn't break. Quite unsafe. This collar is very attractive, and has safely performed doing numerous squirrel chasing adventures.

I love the way it looks. It fit nicely too. I was surprised how good it held up because my dog (55lb pitbull) is very strong and I was afraid it was going to break when he started pulling me to go after other dogs. But it held up fine. I eventually had to take this off him because he was very red on his neck. Not sure if it was caused by this collar, so I'll try again.

The colors are vibrant, quality is great, and they feel very sturdy and durable. Very happy with this purchase!

A very sturdy and beautiful collar. I was surprised at the excellent quality at such a satisfactory price. It fits my rescue dog just right. I'm very happy with the purchase.

I was VERY pleasantly surprised at the quality of this collar! The colors are vibrant and beautiful. The fit was perfect. And it looks like it will last a very long time. Thank you for such a great product!

It's a beautiful and overall well made product. I'm just disappointed it doesn't hold the adjustment length very well.

These are great collars for the price, and fun to wear!! Love our dogs! Love the collars!!

This collar is beautiful and durable. For my dog anything over six months for him I consider very durable. It fits him nicely.

This is a great color! Super sturdy and soft.We love it

We purchased the collar for our new puppy. We loved it so much. The colors are bright and the perfect shade of red, white, and blue.

For the price great collar. Vibrant colors. Not very durable. Show collar.

I purchased this collar because I have a black dog who had a black collar, then lost it outside, never to be seen again. This thing looks awesome on him, and when his sister and him wrestle and she yanks it off, it's easy to see and find. It's extremely durable and a very good quality item!

Too big for my dog but a great collar!

Good quality collar! I had a hard time finding something cute but not girly for my new puppy and this worked perfectly.

Great collar, but I'm still going to search for a really thin one!

The collar is very well made. Colors are vibrant and I love the adjustability of the collar. The price was very good as well.

We like this collar. The only reason for a 4 star is that it is not as heavy duty as I thought. But it is a great basic collar and looks nice

The dog gets a lot of compliments on her collar so she's happy!

I like this collar, but the size is smaller than I think.

This collar is awesome everywhere I go with my dog. People ask me where I get it.

Very fast and efficient service. Have gotten lots of comments about how cute he looks in his new collar.
4th Of July Star & Stripes Dog Collar
This exclusive July 4th Dog Collar will have your doggo dressed to impress while checking out the 4th of July fireworks spectacular show! Your pupper will, without a doubt, outshine the star of the night...the fireworks display! Rock on!
A choice of a proud four-legged American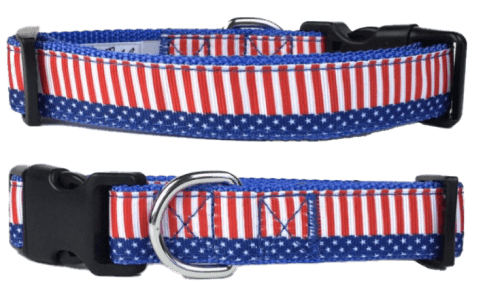 Unique patriotic design
This patriotic Flag Dog Collar screams USA pride all over it! The collar features a traditional American flag design with teeny stars and red & white stripes.
A unique and stylish look
Your pooch will surely make a statement that he/she is proud to be an American while feasting at the July 4th BBQ together with your friends and family!
Size and details
Our patriotic dog collar has a quick release buckle (side squeeze buckle) and nickel plated D-ring. It is lightweight and nylon-free. Dog collars are handmade in the USA from cotton fabrics. The collar is adjustable to fit your pet perfectly. Available in the size Medium which is 1"wide and 10-18" long.
About Midlee Designs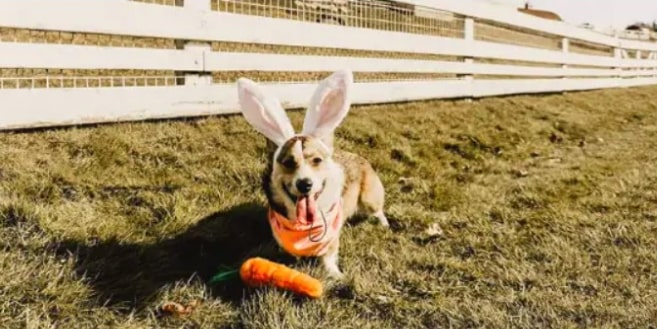 Midlee Designs started creating pet clothing because finding cute clothes for large dogs, like our German Shepherd, was extremely hard. Now we make clothing for pets of all sizes! We specialize in unique pet supplies for dogs, cats, and other pets. So, whether you're looking for the perfect outfit, toy, or pet health supplies, we've got it all!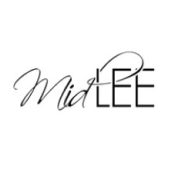 Designed In
Eau Claire, Wisconsin
View full details
4th of July Star & Stripes Dog Collar
SUBHEADING
Recently viewed products