Automatic Outdoor Dog Water Fountain
Reviews
Our reviews are verified for authenticity
I was looking for a drinking hose/fountain for my dog and came across this one. It arrived yesterday and was very easy to hook up the hose. It will take a little patience and training but my dog loves it!

Best dog toy ever! Our dog loves it. The construction is solid with all metal and no plastic parts. A bit of pressure and the water released. If your dog likes water, this is the toy to purchase for hours of fun!

My Shepherd Sammy loves this! We got it for him because he loves playing in the hose. He figured it out in about 15 minutes. All we did was keep pushing his paw down on it so he would see that this made fun water come out!

Constant supply of fresh water. Our dog will bark to go outside just to use it instead of water bowl inside. One downside is that they only last about a year. I've had 3 of them and the first 2 would eventually not turn off. The dog loves it so much, and he learned how to use it in a day or 2, that I don't mind buying a new one each year. 4 stars because they should last longer.

Looks and feel sturdy! My dog is obsessed with hose water so it only took him 2 - 15 minute sessions to learn how to keep his paw on top. Still working on him not jumping once the water comes up.

My buddy, Foster, loves water! Normally, in the summer, I will go outside with him and hold the hose up and let him chase the water. He loves it but I can't do that as often as I'd like so the product is definitely what he needed.

Good product, cute design, fast shipping. Unfortunately I have an english bulldog that is 10 years old. I know when she was young she would have been motivated enough to play with this item all day long. She is a very low energy dog and gets exhausted going for a 200 yard walk. She did enjoy me sitting there with her pushing the paddle for hours at a time but she did not have an interest in doing the work to get the water to discharge. Even though this product was not for my bulldog it may work great for you.

My dog loved his new toy, played for hours at a time. However, he kept picking up the stepper by the hose and puncture a hose in it. We tried to repair it, with no luck, but I was determined to get another one and come up with something.

I like the design very much! Hoping my dog will get the hang of it. It is exactly what I've been looking for!

From the minute it was assembled, my pup LOVES this! Thought he would have a hard time figuring it out, but he took to it right away. MAKE SURE you're home to let your pup out to pee A LOT after he/she uses the fountain or you'll have some accidents to clean up in the house. They drink a lot of water when they use this so don't be upset if they have to urinate a lot! I only let my pup use the sprinkler for 10-15 minutes, or so, because I don't want to mess up his potassium levels and cause a trip to the vet, or worse. Check with your vet on safe time periods for your pup to use the sprinkler.

My dog loves it, water pressure is great, easy to assemble.

Very good quality and easy to assemble. My dog loves it! Worth the money

Best thing ever. Harry got the hang of it so quick and now I don't have to play hose with him, he can do it himself!

Sturdy, works great. Now I just need to get to teach my dogs to drink out of it without me putting my foot on the peddle.

The dogs love it! They picked up on how to work it in minutes. They flip it all over and it holds up great! I would highly recommend this to others.

Product works great! Keeps my dogs supplied with fresh water constantly. Very pleased.

Really easy to put together, great fun to watch and enjoy

My Dog absolutely loved this. I say loved because it only lasted about 3 weeks before he destroyed it lol..he played with it non stop.

Dogs love it!!!! Took about 2 minutes to show them how to use it.

It's great but my dogs are scared haha. Slowly getting there.

Product met my expectations. Cool design, good quality, fast delivery. Thanks to the seller!

Great product, easy to assemble. Sturdy enough for an energetic GSD!

This product is great for fresh outdoor water for my dog. It does take some training for her to activate it herself. I love that she has fresh water when she needs it.

Our Boxer pup LOVES this drinking fountain. Easy to use! They learn pretty quickly how to operate it. No more changing dirty water bowls. We love it.

Easy to install, easy to use by my pups. Fresh water whenever they want it! Love it!

Overall, this is a great idea for a product and it works great. The only negative thing is that the water is hot when it first comes out of the fountain due to it being in the sun. Once the water that has been sitting in the hose runs though, it's cold and it's great. I do realize this has nothing to do with the fountain itself. It's just something I need to figure out how to fix. It does take some time for my dog to get the hang of it but I do love the concept of it.

How awesome this is! Our dog is so happy to play with her water toy.

I have 2 border collies and only the puppy really liked it, but I knew he would because he chased the water hose all the time. My other border collie Missi loves jumping into the lake but does not like this toy.

Our dog, Remy loves her water fountain!! She gets all excited when she sees us attaching it to the garden hose! There is no assembly. Just take it out of the box and attach to hose and the fun begins!!

No more than 5 minutes, my dog figured it out and can't stop playing with it. Sturdy product made of metal. I have to say the seller's product description and comments on reviews are quite accurate. Durable hose, standard USA fittings, connectors are made of brass or steel, well threaded, and include gasket. Honest seller.

Our dog likes it but kept barking at it because he doesn't wanna work for the water. It didn't take him too long to learn how to get water. He loves water and we'll definitely use this product frequently this summer. I give 4 stars because I do think it's a little expensive, but it is a nice product.

The product is incredible. It completely occupies my young labrador retriever for long periods of time. When we let her outside, she bolts to it, and plays and plays and plays. It took her about 5 seconds to figure out how to use it. I have no clue how long this will last - it is getting a lot of heavy duty use. But it seems just fine right now...

Best purchase ever. If your on the fence it is totally worth it. Both the kids and dog love it. The girls wash there hands and fill up the water jugs with this wash there feet before the pool, and the dog is pretty much non stop he loves water and has worn off the paint in a week.

I was hesitant to purchase something I could make. This is a solid product. I have two German Shepherds they have pounced on this thing over and over again. Tough product and hours of enjoyment. Great way to cool the dogs off or use as a backyard drinking water source.

My dogs love this! We got it for them because they love playing in the hose. They figured it out in about 15 minutes. All we did was keep pushing their paws down on it so they would see that this made fun water come out!

My German Shepherd Kane loves this. With me training him on how to do it l just kept telling him to hit it and it didn't even take a day.

I have a 5-1/2 yr old 90 pound German Shepherd and it took him about 15 mins to get the whole concept. Now its a self play toy, drinking fountain. Only issue is we needed to purchase materials to help deter him from flipping it over. We used hooks / stakes to the grass, but It still will require more to make it so he can actually use it on his own. We plan on attaching it to a 4 x 4 piece of plywood so it won't flip over. All and all, after 4 days of use, so far so good.

This is the best thing I've bought for my boys in a very long time! One of them caught on after about 10 min. The other one loves drinking and making his bro do all the work! It comes out not too hard and not too soft. Very well made and seems to be very durable. This is going to be much needed this summer!

Our one year old frenchie loves this water fountain toy. He learned how to use it within like 15 minutes. And now he gets so excited every time you bring it out. I recommend washing and drying it off when done with playing or outside, if you want a longer lasting fountain. Made out of metal.

My dog loves this, of course he is a Lab and they love the water. This is pure entertainment for the dog and owners. I love watching him play with this. A bit expensive, but well built and probably worth the money

My 9mo old lab loves this! However she managed to break the spring in the first hour by picking it up and moving it around the yard. Tried creative engineering, but... I'm still trying to make it last. She loves playing with it for short periods till she finds a way to break my fixes.

It got scratched up immediately by my dog's nails so it is starting to rust but I think this will last much longer than the cheaper plastic ones with my dog. Fun and handy when it's extra hot and the dog needs extra water.

My dog, and kids, had so much fun with this! Easy to install! Kept them busy for a good 30 mins :) whenever we took it out, the dog would go crazy. The only downfall is he never figured out how to step on it, I wish the push button was off the device. He knew the water would spray out and he couldn't avoid getting it in the face.
Can't teach an old dog new tricks? We'll prove you wrong.
All your little furry one's gotta do is press down. And like magic, water comes out. Our Automatic Outdoor Dog Water Fountain brings a new, fun, explorative way for your pooch to quench his or her thirst in the outdoors. No more putting a plain 'ol water bowl out there. Challenge your dog a self-serve way of getting some H2O.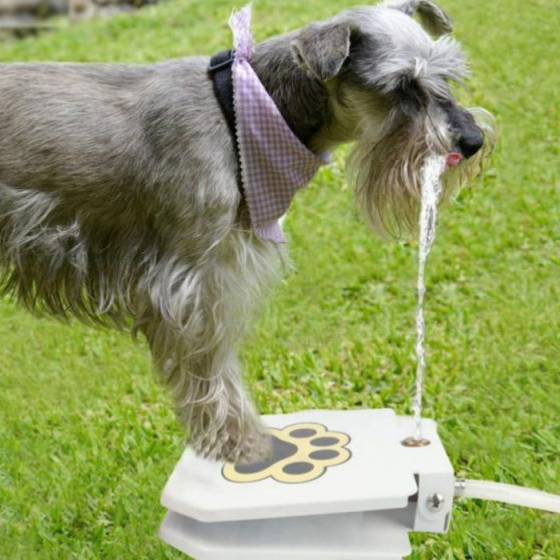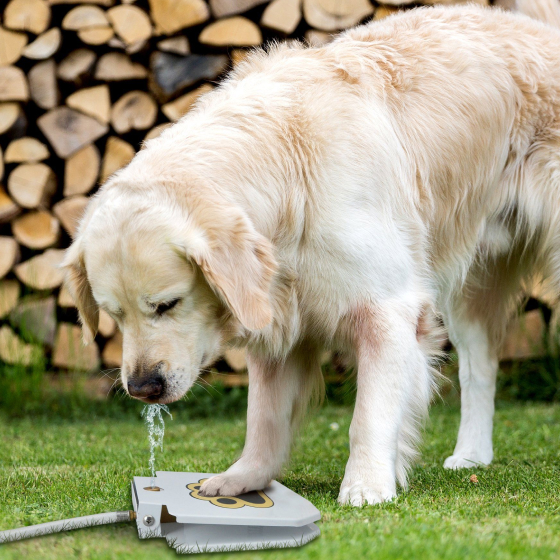 Train with ease
Teach your dog to step onto the printed-paw pattern of the water fountain to dispense water. Each purchase includes some training instructions you can follow to ease your pooch into using the fountain. With time, he or she will be stepping on the fountain pedal naturally for a sip of water!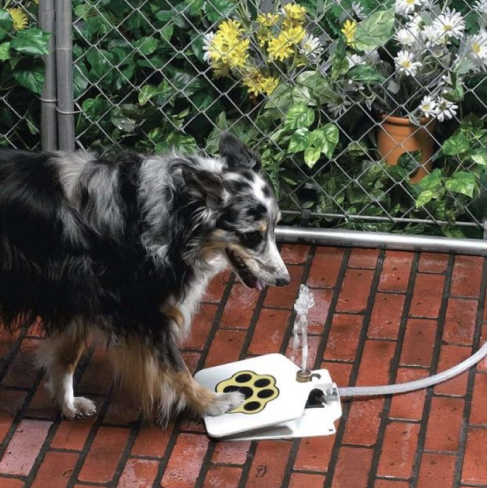 Control the flow
When you buy our dog water fountain, it comes with a two-way splitter attachment for your water valve, letting you use your normal garden hose and Automatic Outdoor Dog Water Fountain at the same time. A pressure adjustment valve on each split allows you to control flow and pressure to train your pooch into using the fountain.
Built with care to last
Our water fountain is made of heavy-gauge steel and a copper valve to prevent leakage while the hose is tamper-resistant for no holes or punctures. The paw-print pedal is made of durable steel plate for a concrete stepping surface (no flimsy of cheap plastic), which rubber friction pads to reduce unwanted skid and movement. The attached hose is also 40.5-inch long for ease of use in any backyard or front yard. With on purchase, you get 9 x 9.4 in dog water fountain,  40.5-inch long hose and two-way splitter attachment.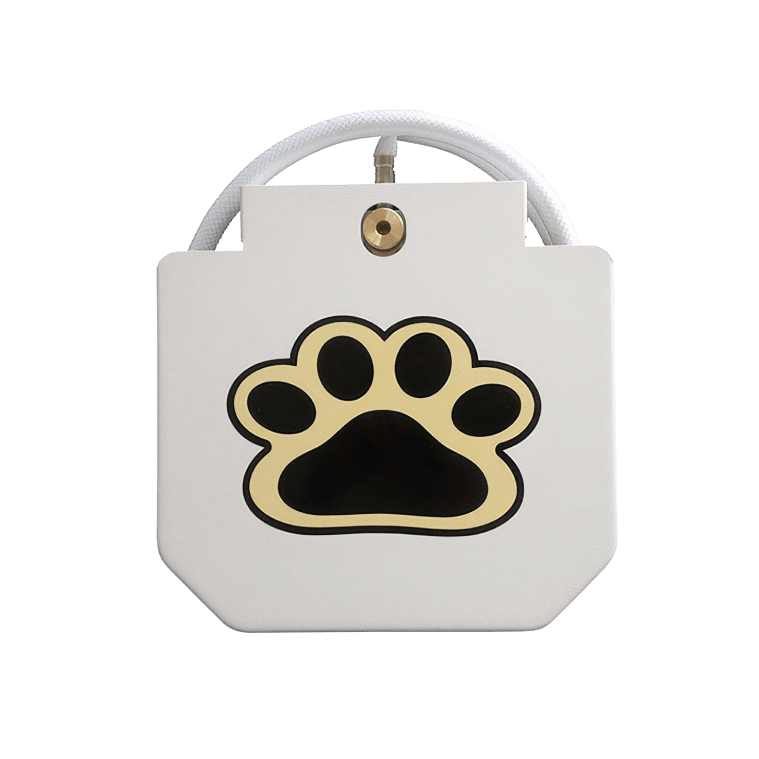 No power required
Your furry best friend does all the work. Here's the detailed installation instruction: take Automatic Outdoor Dog Water Fountain and a garden hose. Connect the Water Fountain to the hose. Screw the hose into the two-way splitter (or directly onto your water valve) and let your fluffy friend enjoy drinking process! Our Automatic Outdoor Dog Water Fountain also requires no batteries or controller or anything fancy.
View full details
Automatic Outdoor Dog Water Fountain
SUBHEADING
Recently viewed products