Black Star Nylon Ribbon Collar
Reviews
Our reviews are verified for authenticity
Stands up great to an indoor outdoor cat. It's a durable

This collar was purchased for my older white cat...she is one of a kind and very picky but I can tell she likes her new collar .....stays on and very light not a heavy collar which is good because she is a petite kitty

Collar is easy to adjust, material is soft and not abrasive to the pet.

easy to adjust and clip and unclip! the stars are so cute i wish my cat had shorter hair so i could see the collar more lol.

Love the print of the star! Looks so awesome on my cat! Love it! Highly recommend!

So cute and just the right size. This collar looks great on my tuxedo cat and she doesn't mind having it on. She's usually a drama Queen when I try to put something on her but she adapted to this in seconds. She's a fat cat but this size fit her perfectly. ). I can't comment on durability bc I have only had on for a month but it seems good. I wish this company had another pattern for my other cat.
Your pet is the brightest star
Is your pet a complete star? Well, of course, it is! Treat your pet (and yourself) to a beautifully crafted collar with stars. This star-patterned pet collar delivers a touch of bling while remaining on the right side of elegance and style. Your pet's new collar will last for years, but it will feel luxuriously comfortable from day one.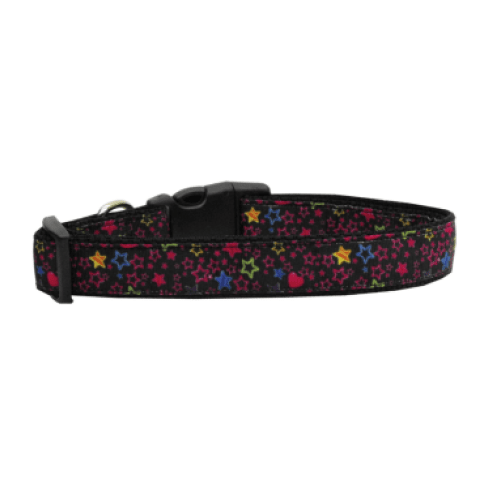 Fabulous, strong, yet soft collar
Help your pet look their best with this collar
For a perfect fit
This gorgeous pet collar is designed for a perfect fit and it's adjustable to fit most neck sizes from 10" to 18".
Finely crafted & sturdy
The quality of this star-patterned pet collar is just amazing and it's built to last through tons of crazy pet moments!
Exactly what your pet needs
This 1" wide medium-sized dog collar is made of nylon with a high-quality ribbon overlay for high fashion and durability.
Proudly made in the USA
You'll be happy to know that this collar is manufactured locally, in the United States of America! By ordering this product, you support a local business.
Any pet would be proud to wear it
You'll certainly be delighted by the fantastic design of this star-patterned pet collar - and your pet will be glad that the collar is so soft and comfortable as well. This is your pet's new favorite collar: your stylish furry companion will absolutely appreciate this delightful gift, so make him or her the center of everyone's attention!
About Mirage Pet Products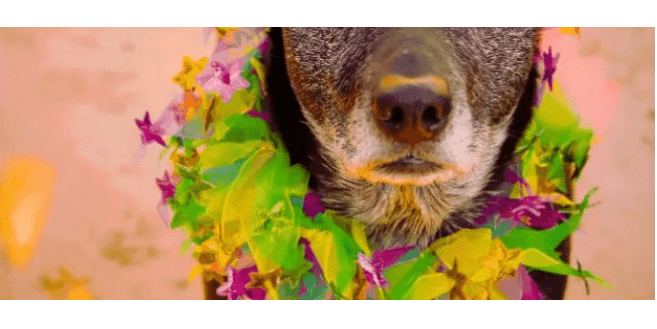 Mirage Pet Products got it's origins in El Monte, California in 1957 at a belt factory. A belt customer brought in a dog collar and requested that the belt factory add some crystals. The rest is pet industry history. Six generations of family have helped make Mirage Pet Products what it is today. Focusing on quality over quantity, we make as much as we can in our small factory in southern Missouri and we sure have a lot of fun while doing it!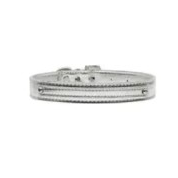 Designed In
Mount Vernon, Missouri
View full details
Black Star Nylon Ribbon Collar
SUBHEADING
Recently viewed products