Black Vegan Leather Car Seat
Reviews
Our reviews are verified for authenticity
Fluffy, comfy, cute just as expected.

Wish I'd bought it sooner, can't imagine my rides without it

Had to buy a second one for my second dog, as they keep fighting over it

Washes well, looks cute, great quality

Been searching for a black one for a long time, looks great. Wish it was a bit bigger as my dog's legs are out when he's stretching, other than that – awesome

Gave in a try a few months ago, still in good shape

Great not having to worry about your dog running around in the car

My furry family members love it! Even my baby tried to get into it

Arrived on time, satisfied so far. Will make an update if something will be off.

Got recommended this product by my fellow dog owners, don't regret buying it. Looks great, feels nice, easily washable. However, the leather lost its original look after several washes, but that's not a major problem

Surprised how well the seat worked out, thought it was just a fancy-looking thing to have in your car, but it's actually quite helpful.

Made my life easier and my dog's life safer.

My dog gets scared when we ride for a walk, especially when the speed bumps are on the way, he just jumps from the seat and starts running around the car, causing me to have massive anxiety. Now the problem is gone.

Nice quality for the price

Recommend this one, will buy again once mine will wear off.

Maybe my dog is too active, or maybe the material is off – not sure, but after a few months had to change it due to it not being presentable anymore

Had a bit of trouble drying it evenly – the filler is a bit hard to spread after the wash, good otherwise

Awesome product, would buy another one for my other dog

Works great for me and my little Chihuahua, we're both safely secured in our seats. No more crazy car rides with dogs all over the place.

Loving this product! The best thing about it is it being black: even if it has some dirt, it still looks presentable and you don't have to wash it over and over again. Also the leather part is easy to wash, but the padding is great as well in that sense.

This is a snuggly soft seat, just perfect for your spoiled princess or prince. My dog just loves jumping in and sitting in this chair.

Super soft and the perfect size for our puppy. Washes well too!

My dog loves his little car seat. He's 10 pounds and just settles in comfortably when we get in the car.

If you want your furry baby to be safe in a car – you will like this product. Awesome design, pleasant material, and the customer service – everything's on point. At first I wasn't sure how safe it would be for my dog, because there seem to be no safety straps, but my pup is surely secured and we had no safety problems so far. And I recommend buying black one for sure: if you're lazy like me and don't want to wash it after 1-2 rides – go for the black. Surprisingly couldn't find many black ones out there in the market. 5 stars!

This product is PAWsome! I have a small car and my tiny doggie who just cannot sit still while on a car ride. I've tried some of the sets but none seem to work: the material was weird, the size was off, the safety was just not there. But this one is just what me and my pup need. The bed fits right into my backseat, and the pup is secured. No more worries for the little one. The material is so fluffy, and the leather looks boujie. It's super easy to wash, and it returns to its shape quite fast after the wash. Sometimes my dog uses it just as a bed, he seems to fall asleep right away. Totally recommend!

Couldn't be happier with the purchase! Loving this seat, my dog is obsessed with it too. I've had my dog run around the car for such a long time, the pup is just always so excited for a walk he cannot handle car rides even to the nearest dog park. This always caused near-accident situations and I kinda even had anxiety because of that. Now the problem is over! Firstly, it's so lightweight, easily portable. You don't have to worry about it losing its shape after washing – just give it a few hours and it'll be just as new. The design looks reach because of the color choice and combination of fabrics. Easily installed, very secure. Would recommend to buy something with higher walls if you have a bigger dog, but it's just the perfect size for us.
Let your dog ride in style
Ensure a much more comfortable and safer trip for your pet with this Black Vegan Leather Car Seat Bed made of premium micro plush material to give special care to your best friend.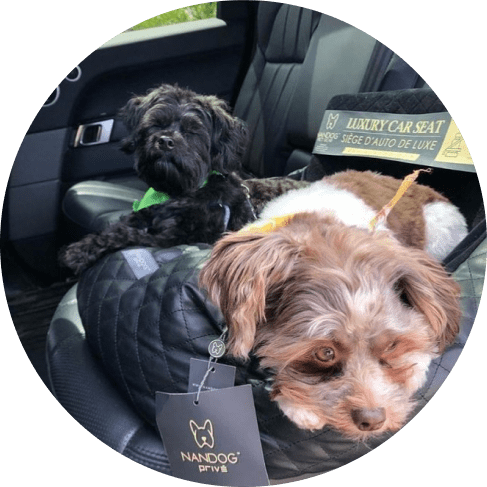 What's so special about it?
It's being created with a special care to your pet in mind
Safety hook and seat belt straps
Increase the safety of your dog while in the car due to such security equipment as safety hook and 
seat belt straps.
Soft and cuddly fabric material
For security reasons, it's made of soft and cuddly fabric materials, so it makes it almost impossible for your pet to get injured during a ride.
Filled with natural poly fiber
The car seat bed is filled with natural poly fiber so you can be sure that your dog will feel extra soft and comfortable in this car seat bed.
Sizing approximately 18" x 16" x 7"
This car seat is designed specifically for small sized dogs up to 15 lbs to provide them with a comfortable travelling experience.
Why is it a must-have?
You and your dog can benefit from the following features: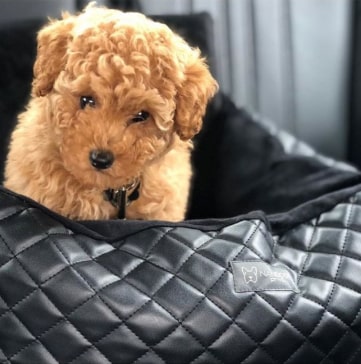 Your dog's absolute safety
There is no reason to worry whether everything's all right with your pet during a trip. Be sure that your pet is 100% secure.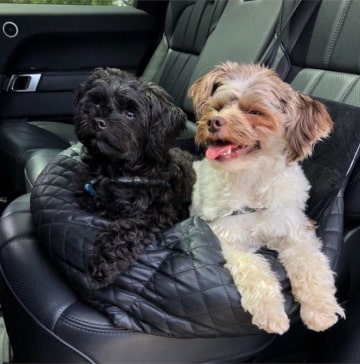 Minimalistic look
Sophisticated quilted vegan leather has a minimalistic look so it will definitely go well with any car.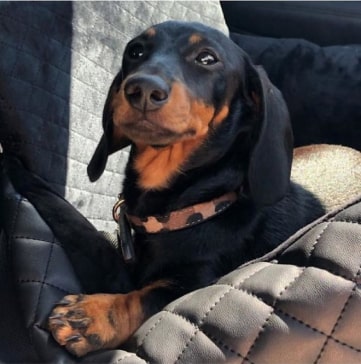 No more scratches on your car seats
Your dog will definitely like this car seat bed and there won't be any reason to get out of it and leave traces inside your car.
Ensure comfortable trip for your dog
Let your dog ride in style with Nandog's Black Vegan Leather Car Seat Bed. Your dog will love the quilted micro plush material. You will feel at ease knowing he or she is safely tucked away with the safety hook and seat belt straps. The Jet Black color scheme offers an air of sophistication to your car. The bed provides amazing comfort for your dog with the natural poly fiberfill. And beyond the comfort and ease for your dog, it ensures a safe ride for your best friend.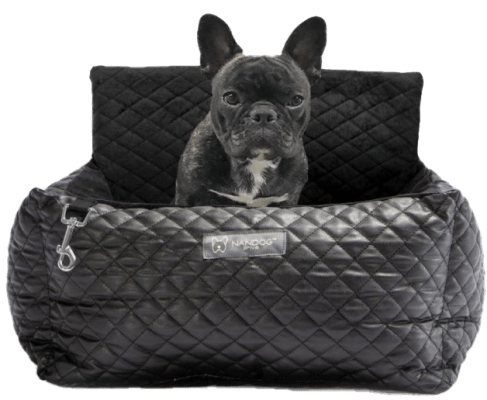 How to make your dog happy?
Would you like to ensure a safe and comfortable trip for your pet, meanwhile, preserve your car's interior? Get a unique and stylish dog's accessory, and make all the other dogs be jealous of your friend!
About Nandog Pet Gear
After recognizing the limited options available to price-conscious dog owners for products that were not only affordable, but stylish and durable as well, Nando Vergara set out to create a specialty line of supplies and accessories that catered to the trendy dog-enthusiasts on a budget. With the help of partner Mitch Klapow, the two put their creative minds together and developed a brand geared to dog owners with a passion for fashion. With a combined 20 years of experience in the pet industry, these guys know what they're doing. Fueled by their passion, the two brought their vision to life, launching Nandog Pet Gear in 2010. What began as a dream has flourished into a successful brand that is now featured in boutique specialty shops and large retailers across the United States. Nandog Pet Gear carries a variety of products including retractable leashes, toys, grooming essentials, travel accessories, and home décor, all boasting a high-end look without the designer price tag.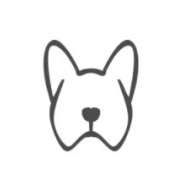 Designed In
Los Angeles, California
Add an additional description to your products. You may set the same content for all products.
Ex: Shipping and return policies, size guides, and other common questions.
Or you may link a dynamic source to show product fields like vendor or custom product meta fields.
Ex: Ingredients, nutritional info, additional features and other unique per-product data.
View full details
Black Vegan Leather Car Seat
SUBHEADING
Recently viewed products