Blumond' Dog Waste Bag Holder
Reviews
Our reviews are verified for authenticity
Love this little bag holder.

It is a great bag holder and I know it will last a long time. This is one of those purchases that you will be glad you made.

I am so very happy that i got this. The material is good quality and thick. It is very well made.

These are really nice, convenient little bags that can easily strap onto a leash or harness, or clip onto a belt loop or purse. The little rubber "dispenser hole" works great to allow you to pull out one bag at a time without damaging it, or allowing too many to come out too easily. It's a well-designed product. Also, depending on what brand of baggies you use, you can usually fit a spare roll inside so you don't run out - or a set of keys, etc. Good product!

I love this little doggie bag holder. it has enough space to put a couple rolls of bags in or a roll of bags and your keys. There are times when the roll can get twisted a bit and then they get stuck but if you tear the bags apart carefully it doesn't twist too often. I recommend it.

I really do like this. It makes life so much easier when you're taking the dogs out and you don't have to remember to grab a bag because it's already attached to a leash. I ended up having to buy a second one because I accidentally broke the zipper on the first one. This is a well made bag and since it's small enough (but big enough to probably hold two rolls of poop bags) and light enough that it almost goes unnoticed when attached to a leash.
The MUST-HAVE for everyday walks
With this bag, you can clean up after your furry friend wherever you go. It assists in responsible pet ownership with its convenient size and carrying capacity.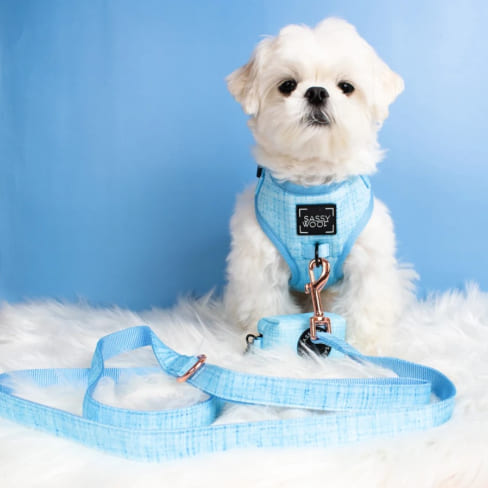 The best solution for dog waste bags
Have essentials within an arm's reach
Top-quality materials
Made from heavyweight neoprene material, it features a black clasp to clip onto your leash or bag and a small zipper pull.
Attaches to the leash
You can clip this waste bag holder onto your dog leash. It can also be used to store treats, keys and other on-the-go necessities.
Lightweight construction
The compact size makes this bag holder light enough not to bounce or cause annoyance when attached to a leash.
Size information & details
This bag holder measures approximately 3" x 2.5" x 2" and also includes one standard waste bag roll.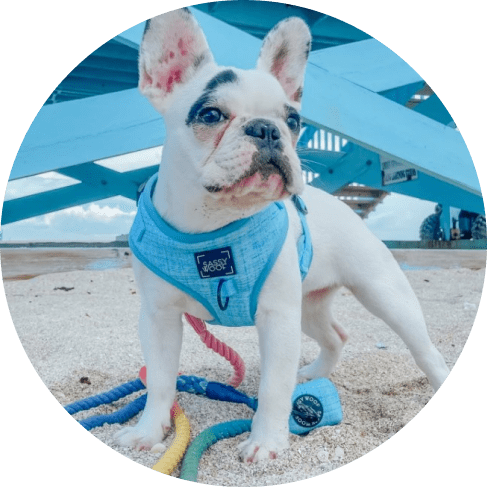 Functional and very elegant
It is not only functional, but also super cute and elegant in the original Blumond pattern by Sassy Woof! Perfect for every season, it will look great on any pup. This vibrant, but subtle blue will have your pup feeling playful and posh.
About SASSY WOOF
Modern. Classy. Affordable. Inspired by our two sassy & spunky dachshunds Maya The Dox and Winston The Dox, we created Sassy Woof to deliver a dog apparel experience that makes your fur-baby feel comfortable and fit for daily use. Our designs are the direct result of endless hours of careful thinking and meticulous attention to detail and crafting. We focus in developing new accessories and products every season to keep your pup's wardrobe as fresh as yours without breaking the bank. Our customers are like our family and we love interacting with each and all of you! Sassy Woof is a small business proudly based out of the suburbs of Washington D.C. A portion of our proceeds are donated to animal charities because no pet should suffer in this world.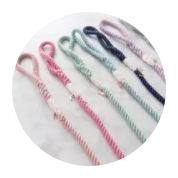 Designed In
Sterling, Virginia
View full details
Blumond' Dog Waste Bag Holder
SUBHEADING
Recently viewed products