Boavista Pet Bowl
Reviews
Our reviews are verified for authenticity
This dish is very cute. I had wanted it for wet food but it is not heavy enough to keep my pup from chasing it all over the house. But it is so cute I will keep it for dry kibble. I think it will be fine for that.

These are really beautiful in person! Beautiful quality, I'm very happy that I purchased these and I think you will be happy too! They Are definitely for a small dog! Love them! Clean, modern & fun!

This is a really cute bowl. I have a 11 pound dog and the size is perfect for her. I got the water bowl to match in a larger size

Еasy to clean, and very cute. Perfect for a small to medium dog.

Kept on porch in the winter to feed a stray, feral kitty. Bowl did not break; perfect size for cat food.

I bought 6 of these. 4 for food and 2 for water. They work perfect where I need them. Light weight and love the design.

Does not break when dropped on floor! Easy to clean as well!

This bowl is the perfect size for my two dogs. I ordered extra just in case they broke. Haven't had to use a new one yet!

We were sick of our dog picking up his plastic food bowl and carrying it around the house to let us know it was suppertime. We figured this bowl would be heavy enough to prevent that. While he can't pick it up and carry it, he has learned how to flip it over several times onto the wood floor to get our attention I love the styling and that I can throw it in the dishwasher.

I've been using the bowl for 2 years. I have a bichon frise and his dry food is really just enough to cover the bottom of the bowl so it's larger than we need. He can empty the water bowl daily in the summer, though, so I wouldn't have wanted the bowls to be any smaller. they look just like they do in the picture. In these two years (including a move) they have never chipped or faded. I wash them in the dishwasher or by hand.
'I love my pet' says it all
The Boavista Pet Bowl by Park Life Designs is a decorative, designer dish painted with playful polka dots. It sports a unique and brilliantly colored exterior making meals fun!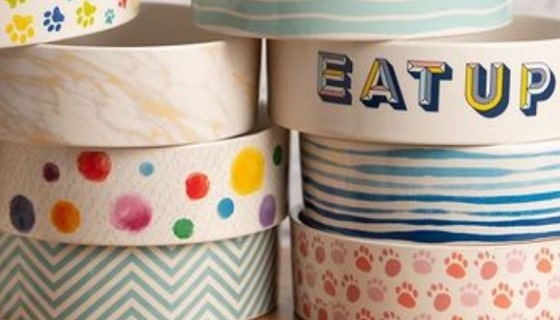 Serve your dogs in style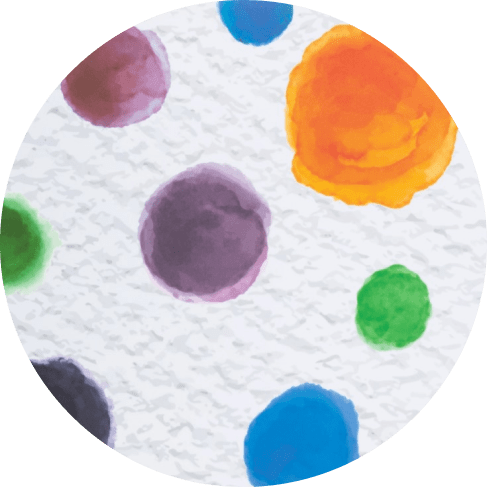 Keep your floors neat & tidy
Each Boavista Pet Bowl is crafted from heavyweight, FDA-approved ceramic that stands strong against slippage and spills. It's a stylish everyday solution.
Dimensions & details
Its durable, chew-proof stoneware is 100% dishwasher and microwave safe. It has a small size: 2" high with a 5.25" diameter. This bowl has a 2 cup capacity.
Make mealtimes and cleanup easy
The source of their delicious food or a place to quench their thirst, a dog bowl or cat bowl must be one of our pet's prized possessions. This is the perfect pet bowl for your home and all the furry companions in your life. Make feeding time quick, simple and mess-free, however excited your dog is to tuck into the food!
About Park Life Designs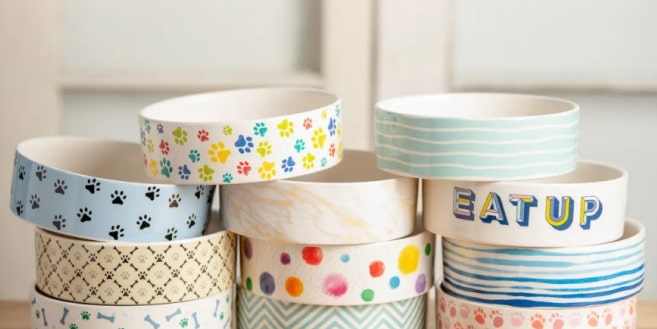 Founded in New York City by a team of innovative animal lovers frustrated with the lack of affordable, fashion-focused pet choices in the market we decided to shake things up in our own fun and vibrant way! Park Life Designs was created for stylish and fashionable pet lovers who love to express themselves with their furry ones. Animal lovers who want chic, fun and playful designs that love giving their pets a little extra flair! Park Life Designs believes every pet deserves decor reflective of their unique personality. Bring Style To Your Pets Life!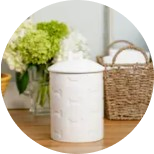 Designed In
New York, New York
View full details
SUBHEADING
Recently viewed products