Bottle Top Flyer Toy
Reviews
Our reviews are verified for authenticity
Hi All - I am a dog trainer, and I think I have tried every advertised "it is the toughest toy" jargon there is. I've also been fair to the chain Pet Stores, but no, nothing compares to the toys invented and put out by SodaPup. My dog, Jem, like many other breeds, has very "busy teeth" when she has free time from training. All the "Long lasting toys" of the past are in the trash and have been replaced. The "Bottle Top Flyer" is a ton of fun. It's easy to throw, strong, and when you catch the direction of the wind, hopefully you can teach your pup, as I did mine, how to jump in the air and catch it! I have replaced every dog toy in my arsenal with SodaPup!

This flyer is well-balanced, easy to throw, and my dogs love it! I have an eight-month-old blue heeler who chewed through it in the center, so it can be damaged, but their customer support was awesome and sent me a new one. Even the damaged one flies well! My other heeler just wants us to throw it all the time and doesn't try to chew. I highly recommend this flyer because of all of the above!

We have been searching for a good flyer for a couple months now. The 1st ones were cheap plastic and didn't last 2 seconds. We found some more durable ones but they were a little too hard for her to catch in her mouth. This is not too hard, not too soft. She can catch it with ease and if she doesn't catch it she can pick it up fairly easily and bring it back. We love it!

I was not sure if my 2 year old Terrier would like a frisbee but I got one for her anyway to see what she thought. My dog loves this! She will play both with me and by herself, which is adorable. My dog also likes to chew on it, but does not make an impact on it because it's so durable. There are teeth marks all over, but it's holding together well.

My dog loves this frisbee! He gets easily bored of toys but he is entertained by this frisbee day after day. We do have to keep it away from him when we are not playing fetch because he will tear it apart. He is a mini Goldendoodle and is 14 lbs so the small is a perfect size for him. Tough ass material it has held up to four frenchies playing tug o war. He loves it. It has some bite mars but holding strong I'll be buying this brand from now on.

Best toy ever for strong aggressive chewers!

I purchased two so my dog would drop one to chase the other. They fly very well and my dog loves them.

My 4 legged lady loves to chase it.

I loved this toy and did research before buying to ensure I was getting safe and entertaining toys for my dogs. They love it. It is great for small sized dogs. It is also popular in dogs that like to play catch.

The material this product is made of is durable and gentle on my dog's mouth. He usually goes thru 2 fetch float toys per summer playing swimming every day it looks as this one will last much longer than the cloth floats. 2 thumbs up

Durable toy. Purchased primarily because I'm training a service dog named "Soda" and I thought it would be cute to have a toy with her name on it

Pretty durable. My dog's favorite toy.

This is the best I've found for my dog. She loves retrieving it, and if I bring others to the park, she won't play with them if this one is present. It's clearly her favorite.

Good for a frisbee that won't hurt your pup's teeth or gums like plastic ones (if they're chewers). My dog (8 month old great dane) loved chasing it but she destroyed it pretty quickly when she snuck it outside to chew on. I may consider buying another when she's a little older and not chewing EVERYTHING until it's bits and pieces. She does have a few other soda pup toys - one similar to a kong that you can put treats or peanut butter in and it has held up well over time!

This is the only frisbee my dog doesn't destroy. In a year, we are on our third one. Which is saying a lot for her! The Kong frisbee barely lasted a day.

Great toy! Our Puppy is too young to retrieve and actually return the disc to us lol but so far it's a fun game!

Still does not fly as well as light plastic, but then it also would not last very long.

Would be a great frisbee if your dog isn't a chewer/destroyer...mine was destroyed when the pup found it in the toy bin and chewed it up in minutes.

This disc is fantastic!! We have a dog who absolutely destroys every toy. We bought it 17 months ago and it's still going strong. Flies well, love our little disc!!!

My pup is a super chewer and this is the beat brand I have found for her. But found out the hard way that it does not float, hence buying a new. Otherwise I would have to.

Like 👍 my dog likes to chew and frisbee still in one piece and also play tug a war and still in one piece first frisbee to do that !!!

Best by far out there for dogs and flies great.

I like that this product is made in the USA. It flies good but doesn't fly as far as a traditional frisbee. Don't be fooled, your aggressive chewing dog will be able to chew through it in no time. I was throwing and no, my dog didn't spend that much time putting a tear in it. All in all it's a good product but not great for aggressive chewers.

Flies great. Well made, seems very durable.

I would like to say thank you for a truly great product. I love this flyer. Thanks for making us both happy.

This flies great! The dog really likes it!

My dog loves this frisbee and it's his favorite to chase. I would give 5 stars, but he's not an aggressive chewer and put a hole in it pretty quickly. I wasn't paying attention for just a couple minutes and he chewed a hole in it. I like it well enough that I will probably order another and be more attentive when he has it.

My dog loves this disc. Flies great and seems very durable and easy to clean.

This thing is amazing. It throws so nicely!!

Dogs love it. I like that it's not hard but definitely durable for my terrier Good service. Thanks.
Bottle Top Flyer
Have fun with your dog with this interactive toy
The popularity of interactive dog toys increases gradually! This bottle top flyer is designed as a classic throwing and flying disc to maximize lift and flight time. So it's high time to use this dog flying disc in the park, yard, or wherever your next adventure awaits! By the way, this is not a chew toy, so don't leave your dog unattended with this toy.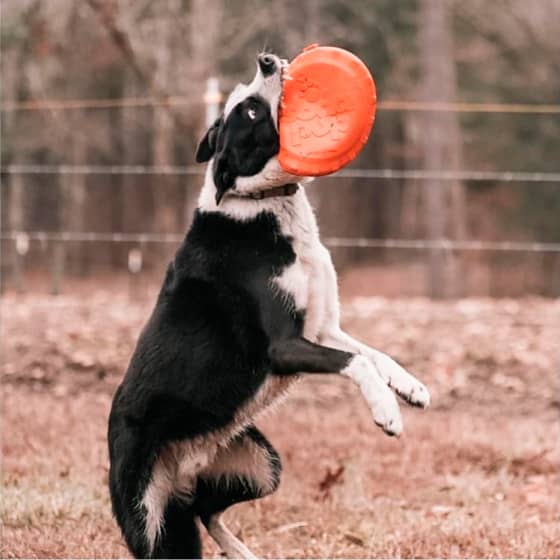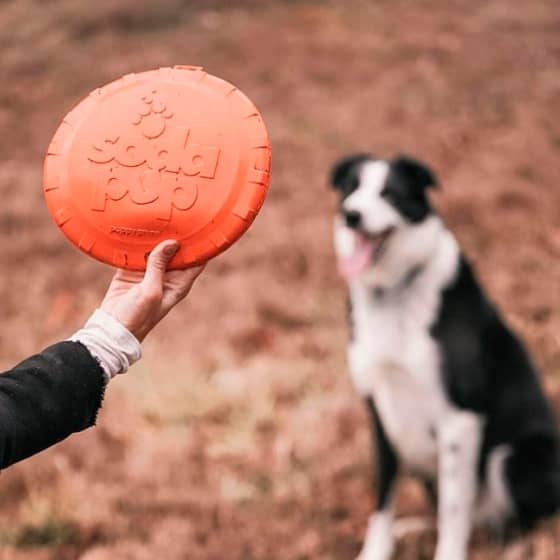 What's so special about it?
Make both you and your dog feel happy with this bottle top flyer. It's made of 100% safe materials widely accepted by veterinarians and with strict safety standards, so you can make sure it won't hurt your best friend in any way. Meantime, there are two size options planned wisely, meaning that there is no reason to worry if it suits your dog perfectly. In fact, there's more to pay attention to.
Safe: non-toxic and biodegradable materials
Veterinarian approved
Designed and manufactured in the USA
Easy to clean: dishwasher safe
Why is it a must-have for your dog?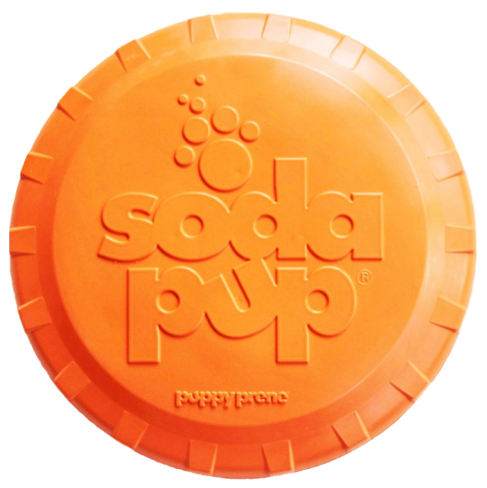 Durable rubber frisbee
This is a durable natural rubber flyer for retrieving with your dog. Please be sure that it's designed not to harm your dog's teeth and gums like plastic frisbees.
Innovative water bottle design
Our interactive toys for dogs also benefit the dog when thirsty! Simply flip the flying disc for dogs over and use it as an on-the-go water bowl. Enjoy the outdoors and keep your dog hydrated!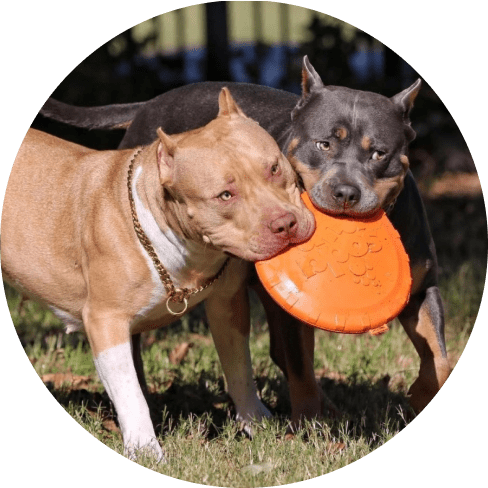 Note: not a chew toy
The flyer is made for retrieving. It is not a chew toy. Do not leave your dog unattended with the Bottle Top Flyer.
Replacement guarantee
We stand by our products and offer a 30 day replacement guarantee. But no dog toy is indestructible. Inspect them frequently and remove damaged ones.
About SodaPup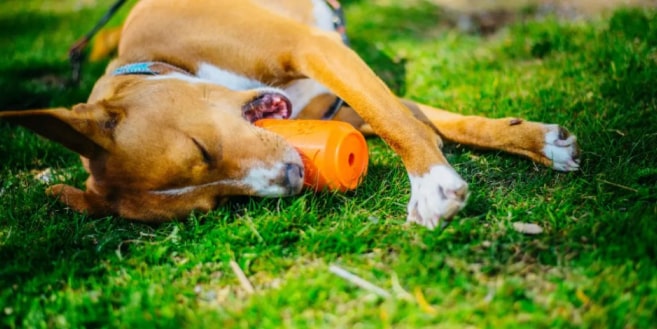 At SodaPup we specialize in creating fun and innovative dog toys for dogs that destroy everything! All of our products are made in the USA and are FDA compliant, meaning they are the safest dog toys in the market today. SodaPup has developed several brands, each with a unique theme that appeals to different consumer segments. Our brands are SodaPup, USA-K9, Industrial Dog, MuttsKickButt, Spotnik, and Harvard's Finest (our brand of grain-free dog treats). SodaPup gives back to the communities it serves, directing contributions to animal shelters as well as dog-related veterans organizations.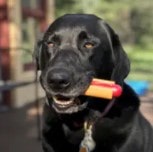 Designed In
Boulder, Colorado
View full details
SUBHEADING
Recently viewed products