Bullfrog - Chew Toy & Treat Dispenser
Reviews
Our reviews are verified for authenticity
I think the toy is amazing! I like the color and it seems durable, but my dogs didn't like them....they ignored them.

Dog's love the toy! But I think it would be much bigger, not a significant con.

It's the only toy my dog will play with - I think she likes it on her teeth!

This product was exactly like the favorite one our dog loved and lost. She is a tough chewer and loves getting her treats out of this toy!

Item arrived on time as stated and is exactly as described! Thanks so much!

My two dogs - a 9 year old black lab mix and a 7 months old black lab mix love this thing. They start drooling and jumping when I pick it up to fill it with dog food. My older dog (who is exceptionally smart) goes through it within 3-4 minutes. My younger one takes her time and it keeps her busy for up to 8-10 minutes. Also, It is made from durable material and the paint doesn't peel off.

This is probably the best dog toy I've bought for the money. The Frog is sturdy and even hold up to aggressive chewers. Also, the side slits are perfect for inserting small treats and it keeps the dogs entertainEd trying to pick them out. Its a play toy and treat toy in one and you cannot beat the price. I would definitely recommend this.

This frog kept my pit bull occupied until she had released every single treat. She is a hard chewer and only managed to rip off a couple of the rubber teeth in the process. My terrier mix was baffled by the frog, however, and fled for his split elk antler. To each their own, but I would recommend this product.

I bought these to give my dog something to do while I'm stuck at home. I have a bunch of different food toys and like to rotate through them to exercise her brain in different ways. This one is great because it doesn't require a ton of food but takes her a little bit of time to work through. It's about the size of a baseball, and I love that I got two of them. Very easy to clean by running under water. I also throw them in the dishwasher if needed. My dog is a little shark but so far she hasn't chewed this toy up or ripped anything off of it other than the treats!
The bullfrog treat dispenser is designed to withstand the abuse of most "power chewer" dogs. Veterinarian approved, so you can rest easy while your dog chews on this toy.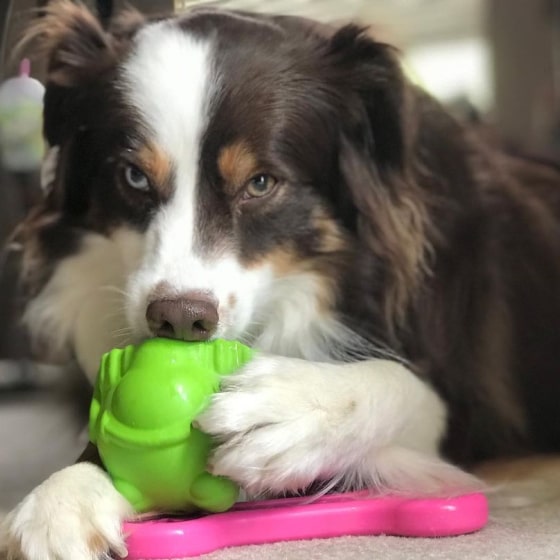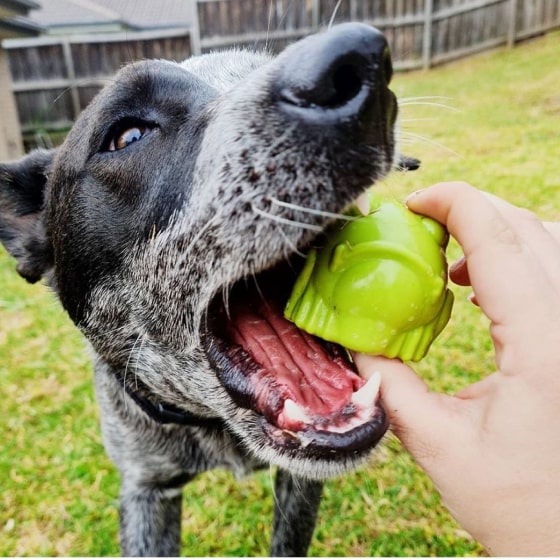 Bullfrog rubber chew toy specifications
A chew toy and a treat dispenser
Treat dispenser
Help your dog fight boredom by filling the bullfrog with kibble and dog treats. The toothed opening helps retain treats, creating a greater challenge for your dog to get at the goodies inside.
Slow feeder
If your dog is a "speed eater", serve your dog's meals inside this toy. It will slow down eating and keep your dog stimulated and entertained.
Animal and planet friendly
Material is FDA compliant, non-toxic and biodegradable. It is sustainably harvested, helping us reduce our carbon footprint.
Made in the USA
Proudly keeping jobs in America! Designed and manufactured in the USA!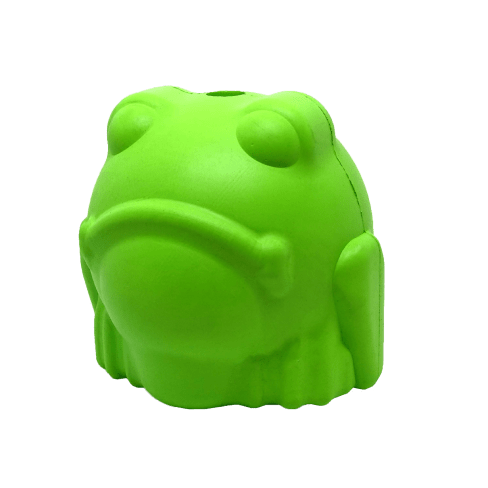 It will become your dog's favorite toy
The bullfrog chew toy & treat dispenser will help your dog with problem chewing, boredom, and separation anxiety. It comes at 2.25" tall x 2.25" wide 2.3 oz. for dogs 15-30 LBS. Dishwasher safe and easy to clean!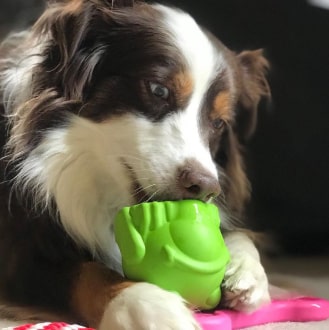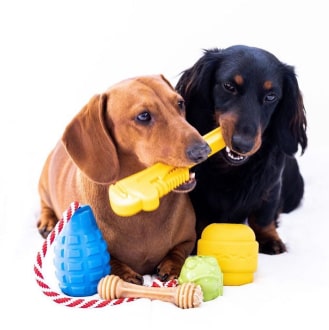 About SodaPup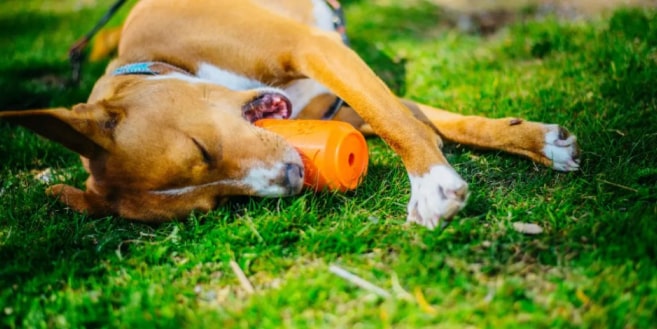 At SodaPup we specialize in creating fun and innovative dog toys for dogs that destroy everything! All of our products are made in the USA and are FDA compliant, meaning they are the safest dog toys in the market today. SodaPup has developed several brands, each with a unique theme that appeals to different consumer segments. Our brands are SodaPup, USA-K9, Industrial Dog, MuttsKickButt, Spotnik, and Harvard's Finest (our brand of grain-free dog treats). SodaPup gives back to the communities it serves, directing contributions to animal shelters as well as dog-related veterans organizations.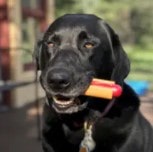 Designed In
Boulder, Colorado
View full details
Bullfrog - Chew Toy & Treat Dispenser
SUBHEADING
Recently viewed products