Capri Blue Pet Toy Storage
Reviews
Our reviews are verified for authenticity
This is one of my personal favorites! It is great, thick, study material. It looks exactly as pictured and looks so cute in the house.

My puppy has been chewing through his toy baskets

Super cute bin! It crunches down a bit on the side, doesn't stay strong. That could be fine depending on how you use it. Puppy can knock it over and climb into it.

Great to keep the dogs toys in and since I've taught them how to drop the toys in the basket themselves this sure keeps the house cleaner. Doesn't stand up straight like in the picture but the boys are constantly digging in it so that might have something to do with it. Cute enough to leave out and let them have access to so I would recommend.

Cute basket that is large enough to store my spoiled dogs' toys! It is a little tall for my cocker spaniels to get the toys off the bottom, but not unusable. It easily folds down if needed. It is perfect to throw all their toys in the bin before bed. Definitely recommended. I hope this review was helpful.

I thought this was going to be too small for my dog's toys and cheaply made, but the price was right so I got it anyways. It's adorable. It's a great size. I have to large greyhounds with lots of toys-big toys-and everything fit in it perfectly. It is well made. I can't believe it was priced so low. Love it. I don't usually write reviews, but I was so please with this product. I would buy another one if i could find a use for it.

I needed a bin for all of my dogs toys. This one looked cute. It fits everything I had. She only grabs toys that are on top, so I leave her favorites on top. It was easy to set up. It took a bit of time shaping it once it was out of package, but adding the toys helped shaped it. Handles are nice. I only needed to carry it once, so I can't speak on how sturdy it is after several uses. But the one time I used it, it was sturdy enough.
Keep your home organized with no efforts
You are probably already more than well aware of how important it is to have the pet toy storage in the home to keep all of your pet's toys in one place. Perfect for pet lovers, the Capri Blue Pet Toy Storage is a splendid storage solution that blends seamlessly with any style of decor. It has more than enough space to handle all of your pet's toys.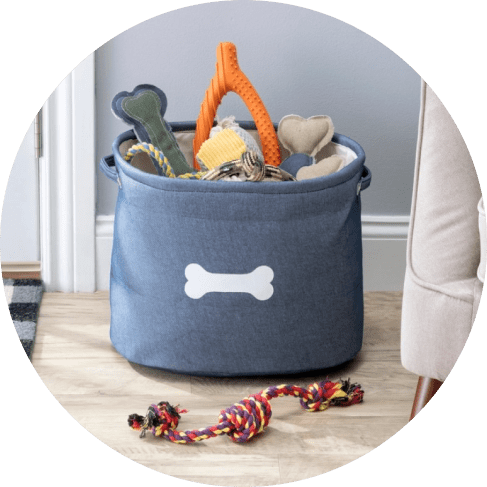 The storage solution you'll love
It's a fun way to organize and store toys
100% organic cotton
Made from durable, sustainable and FDA-approved 100% organic cotton, with a protective inner lining, it is naturally non-toxic.
Sizing information
Fully expanded, this amazing toy storage measures approximately 12 inches in length, 16 inches in width, and 12 inches in height.
Collapsible and compact
The soft-sided design quickly collapses for storage. This basket features sturdy cotton rope handles for portability.
Perfect for holding pet's toys
Trendy, neutral design with bone emblem detail matches most decor styles. It also can be used to store throw pillows, blankets, and towels.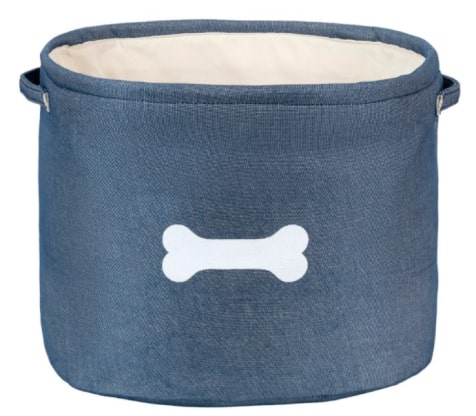 The spacious interior and chic design
This toy storage is ideal for holding more than just pet's playthings: use it to store throw pillows, blankets, or even towels. To keep your storage as good as new, simply hand wash it and let air-dry.
About Park Life Designs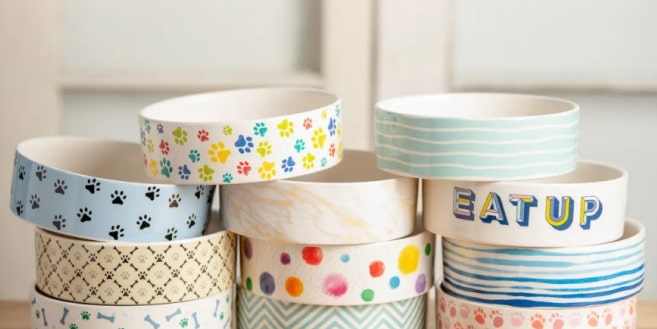 Founded in New York City by a team of innovative animal lovers frustrated with the lack of affordable, fashion-focused pet choices in the market we decided to shake things up in our own fun and vibrant way! Park Life Designs was created for stylish and fashionable pet lovers who love to express themselves with their furry ones. Animal lovers who want chic, fun and playful designs that love giving their pets a little extra flair! Park Life Designs believes every pet deserves decor reflective of their unique personality. Bring Style To Your Pets Life!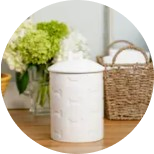 Designed In
New York, New York
View full details
Capri Blue Pet Toy Storage
SUBHEADING
Recently viewed products