Cat Scratcher DJ Turn Table
Reviews
Our reviews are verified for authenticity
I love this product, but more importantly, my cats love it!! I am Buying another so each of my kitties have their own👍

As soon as i bring this box home my cat already knows because she's gone thru like 3 of them but she likes them so much I just keep getting them for her, great product kitty approved!

Saw this scratcher on someone's Twitter feed and had to get one. My cats love it. I add catnip to it periodically and they love it even more. My one cat gets sad when the other cat takes a turn! Not just another unused cat purchase.

Our kitties love these scratching pad beds, they use them all the time. Very durable and made well, they stand up to our kitties. They are nice and large, they love to scratch on them, then, take a nap. We have 4 kitties and they are big kitties and they love to stretch out in these. We highly recommend these to anyone who has cats, they will love them!

I was surprised how fast my 6-month old kitty took to this. She loves it and I may buy it again. But before I do that, I'll have to look around to see if there's anything else that doesn't get messy this fast. Not sure whether it's ok for a cat scratcher to do this only after a few weeks, but it produces quite a few of little pieces of cardboard around the scratcher. Then some of that gets in the paws and is tracked around my home. I'll try putting into a plastic container but that's not going to be a good look. At the same time, a litter box isn't a good look either, so maybe they could live next to each other. The most important thing to say here is, it does what it's intended to do. My kitty really likes it and uses it a lot.

The moment I took this out of the box, my cats loved it. Not a day goes by (and it's been about two months) that they don't use it. One cat sleeps on it most of the day. They've definitely scratched it up and I've had to vacuum up little cardboard pieces but I really think that's to be expected. I will purchase another one at some point.

Just the right size for my cat

The design is unusual, good quality

Awesome Kitty approved.As always as long as the babies are happy and love it. It's worth every penny. Very sturdy and well made.

This is SAVING our carpet! We have a cat who specifically enjoys ripping our carpet up on the corners of our doors. We put this half out and half in our bedroom and our cat loves it. We are thankful to have a way for her to get her scratching fix without ruining our carpet!

Scratching all day and night

I have multiple scratching items and this is the one he scratches most often. I have more than one in the house. I wish it was wider (like our doormat) and that it was sturdier.

Fantastic product for the price!

It is a high quality product and easy to build. My cat loves it so much! Great!

Need a second one, works well

Very good product. High density cardboard means my cat loves to sharpen his claws even more than on other scratching boards. Good value for money.

It's a bit small for my cat to lounge around but great otherwise!

Straight away my baby girl started using it brilliant.

Because I had purchased another scratching toy, I left this one in the plastic with plans to open when the other was over used. However, one of my cats found it and scratched at it until he got it open. Clearly he likes it, and I do too.

She has been in this box sleeping and scratching all day.

I have 4 cats and they are fighting over this. They like to sleep in it. One cat takes it over, and the other cat waits until they get up to snatch it back. All 4 of my cats want to sleep in it. It did it to save my furniture and it is working!

These are a life saver for my furniture. I have 3 cats and they love these scratchers. One of the best things I've ever bought.

For some reason my cats like to just lay on this. I understand the scratching aspect, which this serves perfectly. But for some reason I don't quite understand my cats like to lounge on these pieces of cardboard for hours. Perhaps its insulation from the ground. In any case, these cardboards have stood up well to frequently scratches and a lot of sitting.

I ordered these to give my cats something to claw on as temporary measure to protect the woodwork in my new house. I have 5 indoor cats and they all love these! They took to them right away and have pretty much stopped trying to claw my doorframes and my stairway.Sometimes I'll even find them napping on them.The catnip was an added bonus to get there attention in the beginning, but they use them all the time now.

My babies like to lay on the scratcher when not scratching and the shape is perfect for lounging. When I sprinkle a bit of the catnip on it, they go crazy. I need to order several more so then they will all be content kitties.

I have 7 indoor cats (ages 6 months to 7 1/2 years) and they all love to scratch. The traditional cardboard scratchers all seem to shred rather quickly and there is a mess of cardboard pieces all over the house. I waited to write this review so I could see how long this particular scratcher lasted. Over a month later, it is still in one piece and looks almost new even though it has been used by all of my cats several times a day. I have even seen two of the younger ones using it together.

First off, I do not agree with the process or procedure of declawing cats. But I do also understand that there are emergency situations that can arise. Three of my cats or front declawed but they still have their back clause. They are all adoptions. The newest cat is about two years old and he has all his calls and I am not willing to remove them so we train him to use his scratching post and his scratching pad's. He is extremely intelligent and has not scratched on anything that he is not allowed to. as soon as I laid this down he was already on it and scratching and loving it. He will scratch on it and then look at us waiting for us to tell him that he did a good job. And that is all it takes for him to be happy and is very well trained.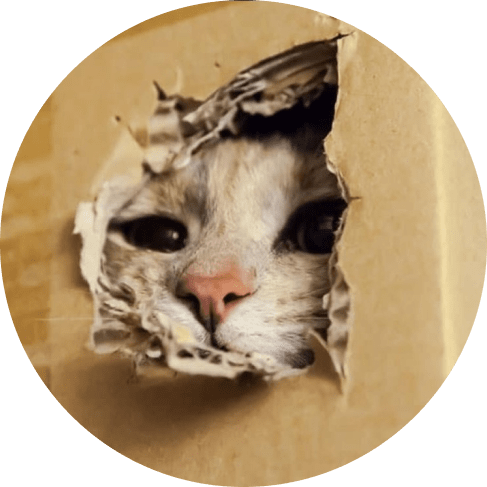 Entertaining with no damage to your home
This stylish, original cat scratcher is a wonderful solution to let your pet take care of its claws and sharpen them easily - and elegantly. Featuring a corrugated surface perfect for clawing, this scratcher is dense and durable enough to suit your cat's taste. Besides, it's an eco-friendly choice: being made of pressed cardboard, it's 100% recyclable!
Your cat will be delighted
With such an appropriate texture and convenient shape, this scratcher is a lovely choice for any cat owner concerned with their pet's well-being - and with keeping their furniture and personal belongings intact. Here is just a handful of reasons why your cats will absolutely love scratching their claws on this fancy scratcher!
Perfect texture to sharpen claws
Plenty of playing space to enjoy
Safe surface material
Enjoyable smells and sounds
Extra BONUS: a rattle ball
A happy pet means a happy owner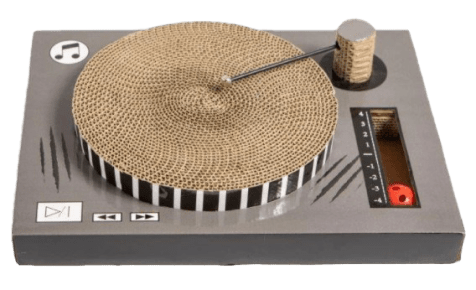 The right thing to stick their claws into
Scratching is a must for any cat. Opting for this eco-friendly scratcher, you give your cat an enjoyable and perfectly safe accessory to play with, keeping it occupied, healthy, and well-groomed.
A scratcher and a playground combined
With its round surface measuring 10" in diameter, this scratcher is a proper fit for a cat of any size and age. The rattle ball included in the set will add to your pet's joy and won't go unnoticed!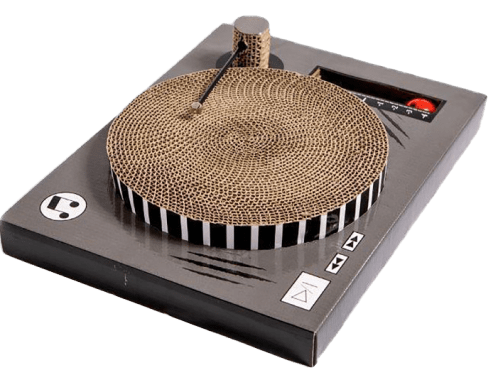 A lovely addition to your interior
The scratcher's unusual yet adorable design can easily fit any interior and give it a fancy look you'll definitely love.
A responsible choice
Made of recyclable cardboard, this scratcher is not only a safe, pet-friendly accessory, but also a truly eco-friendly choice.
About Nandog Pet Gear
After recognizing the limited options available to price-conscious dog owners for products that were not only affordable, but stylish and durable as well, Nando Vergara set out to create a specialty line of supplies and accessories that catered to the trendy dog-enthusiasts on a budget. With the help of partner Mitch Klapow, the two put their creative minds together and developed a brand geared to dog owners with a passion for fashion. With a combined 20 years of experience in the pet industry, these guys know what they're doing. Fueled by their passion, the two brought their vision to life, launching Nandog Pet Gear in 2010. What began as a dream has flourished into a successful brand that is now featured in boutique specialty shops and large retailers across the United States. Nandog Pet Gear carries a variety of products including retractable leashes, toys, grooming essentials, travel accessories, and home décor, all boasting a high-end look without the designer price tag.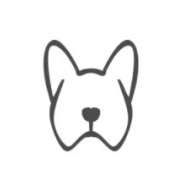 Designed In
Los Angeles, California
View full details
Cat Scratcher DJ Turn Table
SUBHEADING
Recently viewed products