Dancing Fish Catnip Kicker Toy
Reviews
Our reviews are verified for authenticity
I charged it up and promptly placed it on the floor; the tail thrashed so wildly that it moved along the floor on it's own. The cats were too terrified to actually pounce on it; it would be better if it flopped around more slowly. I placed it in a shoe box while it was on and finally our 5 month old kitten went after it like it was a live flounder. I don't know if she pounced on it too hard, but it subsequently died about ten minutes later. I removed the motor inside and I think the cats actually like it better because it's lighter and they can toss it around a good bit. I appreciate that it came with catnip, and I can refill it with fresh catnip later.

Cats were never into it. It just sits on the floor no matter how we try to engage them. Update: it's taken awhile but they are growing on this item. More playing with this as the weather doesn't allow us the go for outside walks. Not unhappy with the purchase. Just needed to give them time to get used to it.

Nice fish! The kitten loved it but the DOG loves it more!!

My sweet baby, Sugar, loved the fish toys. She played with them a long time.

Very realistic soft toy. My cat is happy!

the cat's liked it about for 1/2 hour, even I re-charged it and had it dance in full power ... I even put it into a clear plastic bag to have some more noise.. my cats got bored and did not even turn their head.. I guess I have spoiled cats

My cat loved it and so did I! Tons of playtime and less bleeding legs , perfect size!

Okay, this looks like a fish and sort of flops like a fish but it is too busy, moving all the time and never stopping as promised when left alone. All three of my cats hate it.

I like the size. My cats love it. Won't leave it alone. Sleeping with it now!! Really doesn't want to share. Very entertaining.

Actually my timid tuxedo cat was wary of the fish…flopping or still. So I gave it to a friend for her gregarious Maine Coon. She loved it! As she's a big girl – 17lbs. – the fish is perfect for grabbing. The flopping was an added delight. Then the dog got interested. Tip: so your cat doesn't tire of the fish, allow a limited playtime, then put it away for another time. Then it's always new. Overall a quality product.

Since opening this toy, my cat has refused to put it down. He has spent literal hours just carrying it everywhere with him and watching it until the battery finally died and he lost interest. Luckily, the fish has a rechargeable battery so I just plugged the fish in overnight and it was as good as new in the morning. He likes to carry the fish everywhere with him, it even came bird watching on the windowsill with him. The motor to the fish isn't loud but it isn't silent either, the fish has an on/off switch so I make sure to turn it off at night time while it's recharging so that I'm not woken up by a stuffed fish flapping on my face. Definitely a fun toy for cats and it comes highly recommended by my cat.

It keeps my cats interest. The battery life is so good, I only charged it once and it's still going after 3 days.

I bought it for my cat. It loves this thing and it looks so real. I posted my cat playing with it on Instagram and people have inquired where I got it, and want it for their cats and dogs.

Megatron loves his fish. He carries it around with him and interacts with him. Great purchase!

My cats love it and it came fully charged! Very entertaining they love the catnip. Overall happy :)

But it is now my puppy's favorite toy!

Good product, only wish the head flopped too

Thanks much for the excellent communication about my delivery. My beautiful Big Red Burmese Boy Mr Marko Cat received his own present – his very own "Kicker Fish!" I add extra Catnip to them for extra fun! Mr Marko Cat has 1 Kicker Fish upstairs and the other one downstairs- he loves them both so much!😺 Will try to upload a photo of Mr Marko rucking his "Kicker Fish!" 😻🐾😀

Excellent quality! There is a zip compartment in the belly just open it up to switch it on/off, or charge it, or add a fresh catnip pouch (optional, it came with 1). Kitty loves it! She's a feisty 3-year-old, was a feral stray kitten we found at about 5 weeks, still retains some wild ways. We had to stop letting her out because of killing things like frogs, baby bunnies, etc and she brought a live mouse in through the dog flap about a month ago so now she's grounded for good. With keeping her inside she definitely needs appropriate outlets for her instincts. This fish is a good size for her to grab and kick. Great workmanship and materials. We're having fun watching her enjoy it.

My cat is entranced. She plays with it all the time. It's very responsive to touch and holds a charge for a couple of days depending on how much it's activated. Worth the money to keep the little one entertained.

I just received it so I can't speak to charging or durability, but my cat took to it immediately! He's currently rolling around on the ground with it (watch the video I added!!). It's super easy to use and there's a little pouch inside for catnip. Seems to be good quality too! Nice and soft and kinda looks like a real fish if you look quickly 😹

This is definitely for use as a cat toy. My cat is a little cautious but does a quick stealth attack on toys when no one expects it. So, she has checked the toy out but is waiting for that prime opportunity. But, I'm pretty positive it will come. Will update review if possible.

To preface this review, my cat does not typically like to play with toys— I barely had a chance to remove this toy from the packaging before my she tried to destroy it. She loves to hate this fish!

The motor scared the bejesus out of my cat, but she loved the toy without the fish flopping around. I just put some catnip inside of it and she warmed up to it almost immediately (she just doesn't like how loud the motor is).

This is a cool little fish out of water. I like that it is activated by a sensor when they touch it. I sprayed some liquid catnip on it for a little added fun and my little guy is loving his new toy.

I gave Hope the fish cover while charging the battery at my computer! She enjoyed playing with it and I think it helped her feel comfortable with it on the initial introduction. The part I appreciated most about it was that she spent time playing in the living room it while my boyfriend and I were sleeping. We usually keep her in the room with us because she tries to jump places she's not allowed, but she had her fill of the fish, and then came and napped with us. It keeps her company! She's a little co-dependent, so I think it'll help her when we go back to work. I like to imagine when she played with it without the motor, and then I put the motor in, she was mind-blown and wondered how it suddenly came to life X)

This cat toy is charged via USB under the zipper of the fish, to make the fish tail flop when you turn the button on. It comes with a little bag of cat nip inside. The toy is touch censored so when the button is turned on and the toy is moved, the tail starts to flop for a short amount of time and then auto shuts off with inactivity. I have two kittens, 3 months old, and bought this awesome cat toy fish for them. I think it's great and i think that I'd really like it if I were a cat. Not these two ungrateful, privileged, and spoiled little loves of mine. They will watch the tail flop for a moment and then go about their business unimpressed. I really hope they grow to appreciate this toy. Great idea in my opinion 🙃

I originally purchased this product for my 2 cats to enjoy, but to my surprise when it arrived my cats ran away from it and were afraid of it. On the bright side, my chihuahua absolutely LOVES IT! lol

Our cats loved rubbing up against this fish toy. first they get curious when it started flapping back and forth. A nice interactive addition to your cat toy collection!

Cats were a bit confused at first and it did take catnip to get them interested. Fun toy for them but likely only during limited catnip playtime. Hoping they may get more used to it and intrigued. Will rate with more time with it. Easy to charge. Update: Cats seem to be enjoying this a bit more and dragging around the house.

My cat Petey has taken complete ownership of the toy. He is attacking the other cats when they go near it. I had no idea it would be such a big hit with the kitties. The fish find flop like a fish out of water. It's great.

Appears to be well-made, and soft. I only charged it for about 20 minutes, and it is still able to flop after a solid half-hour of play with Ailee. Great purchase!

This interactive cat toy is one all cat owners should add to their list! I was looking for something that was inexpensive yet would keep my 3 cats entertained when I am busy and can't play directly with them and I am so glad I purchased this moving fish. It came exactly as described, had a fragrant catnip package included, was easy to get assembled and charged quickly! As soon as I set it down on the floor, my cats were on it. It doesn't go right off- the motion activated sensor is programmed just right so your cat will need to nibble or swat a couple times first before the fish toy will start flopping around. It looks realistic how it flops and it majes a sound similar to a mouse squeak as it flops. One of my cats jumps in the air each time the fish toy starts flopping, even though we've been playing with it for a week, it always takes him by surprise. It is hilarious!!! Definitely a must-have cat toy! It comes with a USB cord to put in your plug to charge. While it is charging, there's a red light. It stayed charged for 3 hours no problem. Just turn the toggle switch to OFF when done playing to keep it ready for play later on.

My cat likes this fish toy! Thank you!

When ordering this, I wasn't sure how the cats would take it, whether it would be fun or just plain too scary for them. Well, it's THREE/three cat thumbs UP at our house! Each of them absolutely LOVES this crazy fish toy, due in large part, I am sure, to the delightful catnip aroma. The grand kids love it as well, although one of them jumped and squealed the first time they picked it up and it moved, which was grand. So glad to have come across this fun toy. It arrived charged and ready and I still have not had to charge it yet, so it holds its charge for a very long time. We've had it for about a week and everyone is still loving this fish!!
Kitty, meet your new best friend
When you're too busy with the stresses and demands of daily life to continue jingling bells or throwing tennis balls around to entertain your pet cat, it's time to find a toy that can entertain your kitty all on its own. One that can do its own tricks (without need of human help or control). Enter our Dancing Fish Catnip Kicker Toy, a plush fish that comes to life to keep your cat intrigued for hours.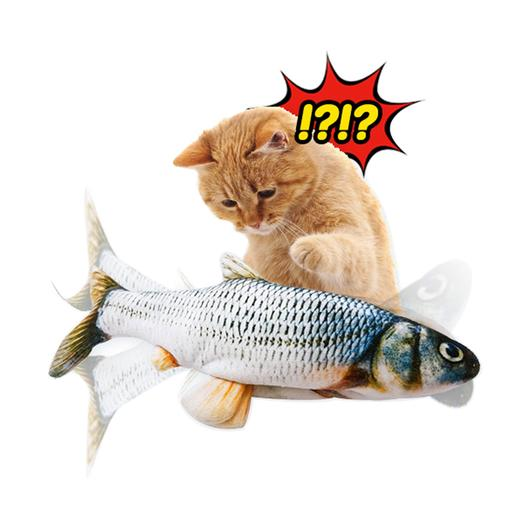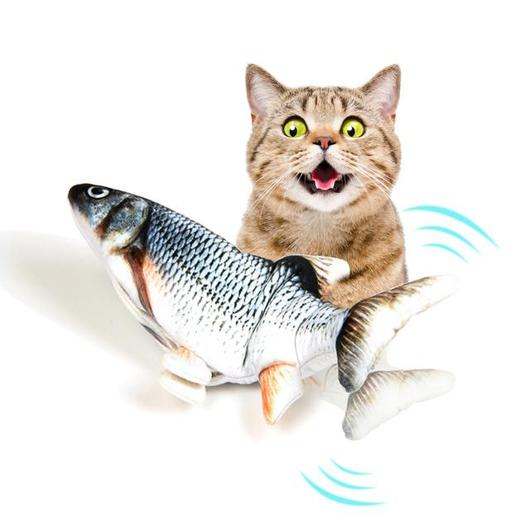 Come to life, fishy
Thanks to a built-in motion-detecting motor, our fish flops with life-like motion when your cat interacts with it or moves near it (imagine the fear and excitement!). When it's left alone, the fish will not move -- playing dead until your cat approaches it again. The motion sensor even adjusts its level of movement based on your cat's movement: it goes fast if your cat is scurried, and it also moves slowly if your cat is approaching it slowly.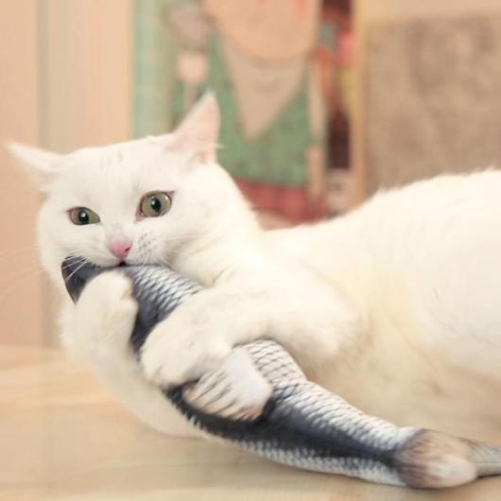 Entice with hidden treats
Hm...is the toy not piquing your cat's interest? Time to lay some bait: a built-in velcro-pocket allows you to fill it with catnip or cat food, for endless entertainment (and confusion even) from your cat. Watch your kitty's bewilderment and joy, knowing the Dancing Fish Catnip Kicker Toy can keep your pet occupied with amazement.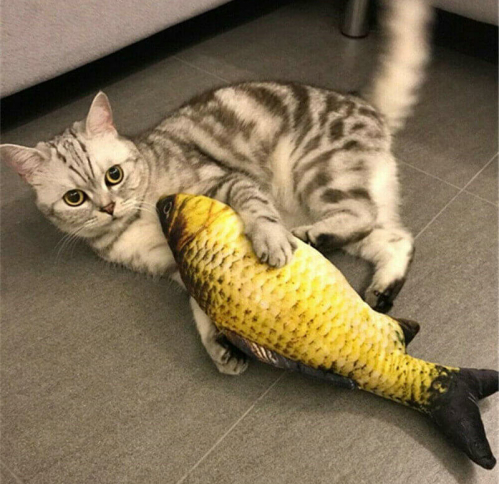 Charge with ease
A built-in lithium battery means this fish is rechargeable -- and you can do it with just a USB charging cord (one is included with your purchase).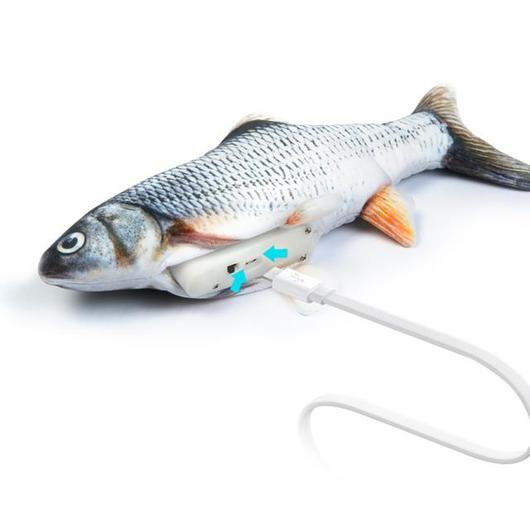 Bite-safe, easy to wash
Crafted from polypropylene cotton, this toy's material is bite-resistant, safe, and non-toxic for your kitten. After multiple play sessions, you can clean the toy by hand-washing; simply remove the interior battery and motion-sensor pack before doing so, and air dry completely before reinserting the pack.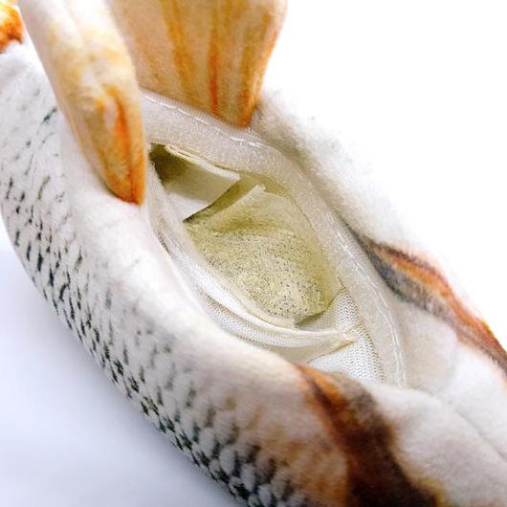 Small (but oh, so fun)
Our fish toy measures just 11.8 inches long and weighs 3.88 ounces for something easy to move around the house -- whether by you for on-the-go fun, or by your cat for his or her own enjoyment.
Add an additional description to your products. You may set the same content for all products.
Ex: Shipping and return policies, size guides, and other common questions.
Or you may link a dynamic source to show product fields like vendor or custom product meta fields.
Ex: Ingredients, nutritional info, additional features and other unique per-product data.
View full details
Dancing Fish Catnip Kicker Toy
SUBHEADING
Recently viewed products