Dog Toy Feeder Ball Large (2.8 inch)
Reviews
Our reviews are verified for authenticity
Came two weeks ago and still in good condition. I mix up treats - somedays it's cheese, sugarless peanut butter or broken to pieces puppy treats. It works any time! He gets excited when he sees me pick it up and it works great as a distraction.

Amazing teether! My dog went crazy for the ball filled with little treats, and finally my shoes are safe.

I bought it as a gift to our two pups who love dog puzzles. They Loves it!!! Great for keeping them busy and also clean teeth. I broke the dog treats to smaller pieces to hide it deeper in the ball.

These are the best chewy toys we have found!!! They are awesome!!! We fill them with dog treats and cheese, and the dogs are completely engrossed with them! I put them in soapy water when they are done and easily clean out the grooves. IT is awesome! We bought two more sets! We absolutely love them!

This type of ball is my dog's favorite. I have a 60lbs boxer pit that has a strong enough bite to eventually rip up the ball, but so far so good. The design allows her to chew and massage her gums and cleans her teeth. It's also bouncy, which is great.

Perfect ball for fetch, chewing, and play

My puppy is a rough nibbler as she goes through her teething. She has ravished any "tough" labeled toys so far. And then this ball came! We just got the balls today, but she's in love with them already. So much so that she has forsaken her favorite chew toy. Not sure about durability, will update the review later.

My dog isn't a big chewer, so we didn't get any problem with the ball. Already used it for every evening during past two weeks, and the ball is still intact. Well-made!

I give this ball to my dog on my way out to work in the morning as a sort of treat/toy to keep his anxious little brain off the stress of me leaving. It doesn't' take him long to get all of the kibble out but he seems so excited whenever I get it out, and he is still definitely working on it while I'm walking out the door. So it works perfectly for my purposes. I am super happy with this purchase.

I needed something that would distract my 3 month old puppy while engaging her mind. The rubber material they use to make this is very sturdy and easy to clean. I usually soak it in some soapy water just to get in all the crevasses but always comes clean well.

Seems pretty durable, so I hope this one will last for a while!

Great Entertainment for a bored dog!

Not 100% chew proof but still fun!

The ball is slightly smaller than I imagined, and I was worried it would be to easy to find all the treats. But I wedged quite a few in there and it took my Hassie a good while to pick the toy clean! She is a very curious and energetic pup so I am always happy to find a new source of enrichment for her.

We have an older dog that has some cognitive issues. It was recommended to get her puzzle toys, so I've decided to try a treat ball. We use the small training type treats and put in this and she would stay busy for an hour or more! She enjoyed it!! They are sturdy as well!

Its durable, strong, and keeps pups busy. If your dog loves tennis balls they will love this ball too!

I put treats in it and give it to my dog and she loves it. After the treats are gone she chews and plays with it for a long time. You can play fetch with it too. I am very happy with this purchase.

The ball came with a scent, something like mint. I washed it a few times, but still, at first my dog wasn't very excited - guess the mint smell was mixed with treat smell.

I'm always looking for toys to keep my food-motivated dog occupied, and this one is a winner! I can stuff pizza crust pieces in the spikey sides of the ball, and I've found that small greenies style bones can be stuffed into the middle. She has gotten pretty quick at pulling everything out, but putting a greenies bone in the middle still takes her some time.

It's heavier than I thought, so be careful if you throwing it inside

Great ideas for entertaining the dog. He's had them for a bit and he's torn up a side of one of them after a few uses but the rest of the ball is still intact so it's still okay to play with

This toy is amazing. Even my elder Maltese LOVES this. She normally has to do a trick to get a treat, she's loving the treats buried deep within these toys. She even took the ball to her bed to play with, even there were no treats.

Most durable ball we've found

I have two dogs - a golden lab and a very hyper beagle. I use different treats to fill the ball, sometimes even peanut butter. Lab is a bit lazy and just chew whatever is on the surface, but for the beagle, it's a great game! He chomps and works his ball until every tiny protrusion and indentation is completely free of everything edible. Highly recommend.

Amazing puzzle toy! Great for a car trips or to distract our three dogs between the meals. Pretty fun to hide the treats deeper in the ball and leave just a few on the surface. It also rolls, which adds another level of intrigue and difficulty. Very good design!

Works well for our bored troublemaker puppy. You can fill the ball with small dog treats, and it rolled very easily - so the puppy can chase it and chew for quite a long time. Doesn't keep her busy all day or anything but it will kill 15 minutes or so!

This toy was our desperate attempt to get out 10 months husky to chill a little. To be honest, I was doubtful that it would work. However, this toy definitely exceeds all expectations. She is playing with this ball for an hour daily, which is amazing. I also use it sometimes as a slow feeder - using not treats, but her food to fill the ball. Great toy.

Puppy loves this treat ball!

Very nice toy for a smaller dog, but I guess the big ones would just chew through it

Buys me about forty minutes of peace every evening, and it's priceless.

Not as durable as expected

Good toy, a bit hard to fill up

Durable and fun toy, but it's not easy to clean

Such a great find! My dog is now getting busy for awhile I'm leaving home. I just moved and she has separation anxiety when I leave, but this ball is really helpful.
Do double duty for your
dog's teeth
Built from ultra-sturdy, non-toxic rubber, our Dog Bite Ball features a serrated-teeth design that helps your dog clean his teeth and gums, all while building fine-motor and cognitive skills if you hide food inside the ball. Make snack time a challenge that's worth it for your four-legged buddy.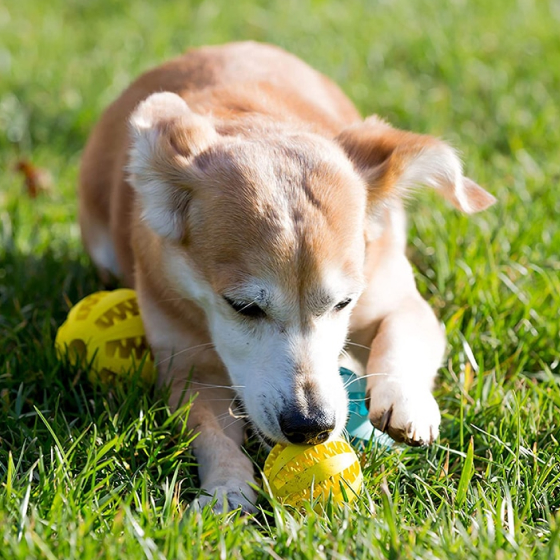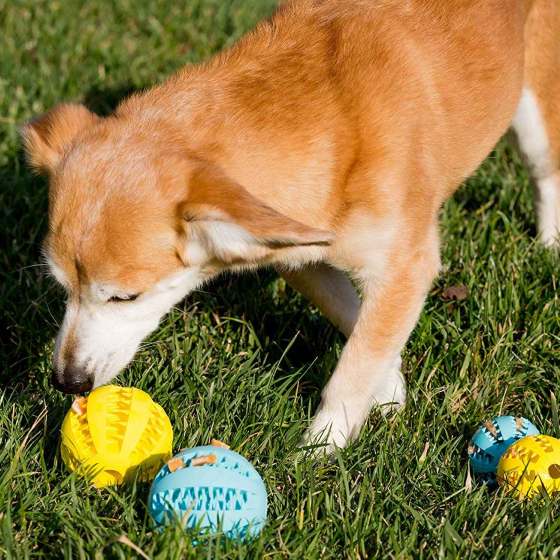 No tears or damage
Unlike other ordinary dog toys made from low-quality rubber, our rubber is elastic while resisting bites and tears from the most aggressive of canine mouths. The material is non-toxic and non-abrasive for safe biting. The ball is available in four colors: red, blue, green, and yellow.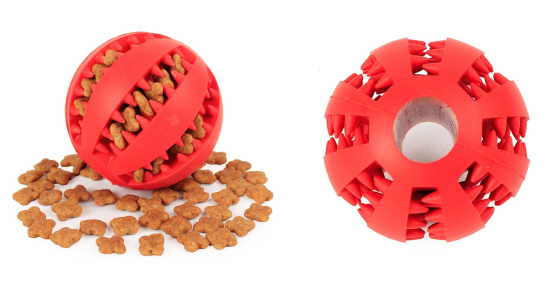 Ease boredom
Soothe aggression
When you're too busy to play with your pooch, your pet can succumb to boredom and may wander off someplace to find entertainment of his own. Our clever Dog Bite Ball allows for grind-and-bite fun with performance-built rubber that features serrated teeth to massage your dog's gums and mouth while he gnaws away.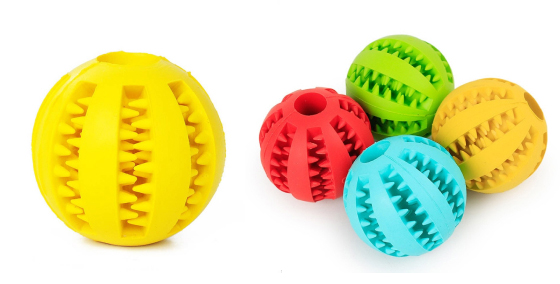 Improve your pet-owner relationship
Fill up the rubber ball with some of your dog's food or some bite-sized dog treats and play fetch. The catch-and-reward system that you can build between you and your pet can create a foundation of trust and obedience. This ball is great for your play time with your dog and can help build a bond unlike any other. With on purchase, you get 1 random color Dog Toy Feeder Ball.
View full details
Dog Toy Feeder Ball Large (2.8 inch)
SUBHEADING
Recently viewed products