Dolce Rose' Dog Collar
Reviews
Our reviews are verified for authenticity
Perfect for my yorkie although I use a harness I love the look and feel of this collar, it's excellent quality and durability and classy looking too. Love it for my princess.

I love the collar and the durability. It's made really well and will give our puppy room to grow. The smaller collars were just too tiny, and this one is perfect. We have a 5.5 lb mixed pup and this works great.

What a bargain! The quality is excellent. I love the color.

I am so happy with this purchase. Such a nice quality!! Very happy!!

It is super soft but durable..

I love this set because it looks great, the collar is super durable, and seems very comfortable.. At first I was worried it might be uncomfortable but my dog was happy wearing it, so I kept it. The collar (I got dolce rose) is just blingy enough to look cute and we have received several compliments on it!

It's perfect and very well made as well!

Firstly I must say that this collar is outstanding quality.This product has certainly exceeded my expectations. The collar is beautiful on my dog and soft on her neck, well made. Fits perfectly!

Love this collar! It's super cute as well as sturdy. I love how adjustable it is as I can adjust it as our goldador pup gets bigger. The color options are great too. The collar - it's perfect for what we needed/wanted. I originally thought it was a bit expensive for a growing pup but it's sturdy and cute and will last till she outgrows it so I definitely now feel it was worth the price.

"Oh my, how beautiful!" may seem unusual when describing a dog collar and leash set. In this instance, however, it is fitting. The collar is sturdy yet made with the softest material. Heads will turn when we're out and about, there's no doubt about it.
For the dog wanting to make a statement
Enrich your pup's look with "Dolce Rose' Dog Collar. Great for everyday wear, it's sure to make your dog look fresh. From lazy summer strolls to snuffling in the sand, your pup is sure to cause a stir.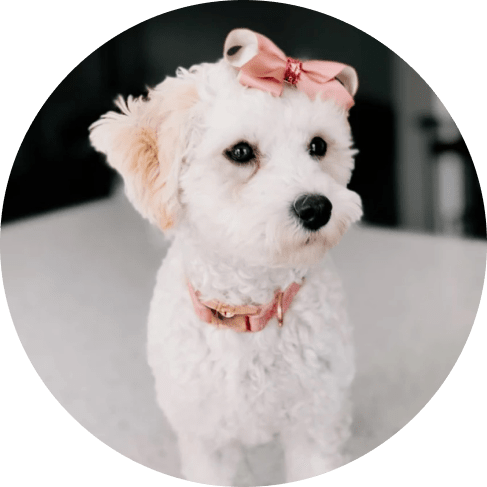 Your fancy pup needs this collar
Made for the style-conscious pet
An absolutely charming accessory
Walk in style with our beautifully crafted 'Dolce Rose' collar, featuring a Sassy Woof original design.
Wash & care instructions
Refrain from emerging this fabulous collar in water. Spot clean with soap and water, then hang to dry.
Comes with a metal D-ring
The 'Dolce Rose' collar by Sassy Woof also includes a sturdy and reliable D-ring for leash and tag attachment.
For your dog's safety
Keep your dog comfortable, safe, and stylish. This collar is made with neoprene material for extra comfort for your pup.

Easy adjustment
The small size of the 'Dolce Rose' Dog Collar measures approximately 0.6" x 9.5" - 13", and it's a fully adjustable collar to fit most pups.
Attention to the details
This collar is made out of nylon webbing with a quick use buckle. It is also finished with sophisticated heavy-duty rose gold hardware.
Accessorize your four-legged friend
Make your dog look absolutely elegant and stunning with a special touch of rose gold that's bound to turn their whole look around! If you're looking for a stylish, simple design and want to express just how fun-loving your dog is, you've found the perfect dog collar here! Looks fabulous on every pouch!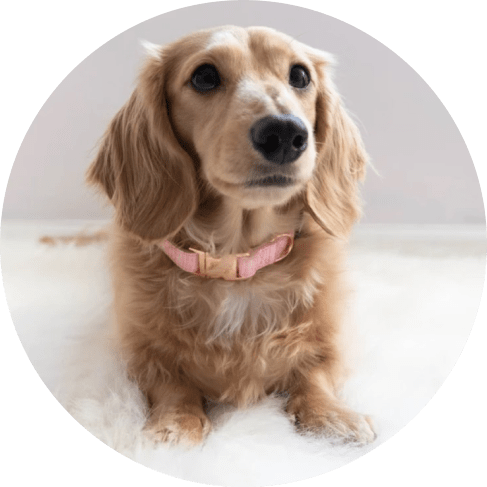 About SASSY WOOF
Modern. Classy. Affordable. Inspired by our two sassy & spunky dachshunds Maya The Dox and Winston The Dox, we created Sassy Woof to deliver a dog apparel experience that makes your fur-baby feel comfortable and fit for daily use. Our designs are the direct result of endless hours of careful thinking and meticulous attention to detail and crafting. We focus in developing new accessories and products every season to keep your pup's wardrobe as fresh as yours without breaking the bank. Our customers are like our family and we love interacting with each and all of you! Sassy Woof is a small business proudly based out of the suburbs of Washington D.C. A portion of our proceeds are donated to animal charities because no pet should suffer in this world.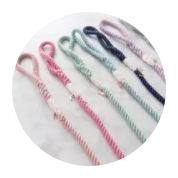 Designed In
Sterling, Virginia
View full details
SUBHEADING
Recently viewed products