Eco-Friendly Dog Travel Water Bottle
Reviews
Our reviews are verified for authenticity
This is a great solution for having water accessible to my dog when taking long walks or traveling.

I love this water bottle! I use it for a little cockapoo and think if it was a bigger dog it would feel too small but for him it's perfect!

My golden retriever absolutely loves this water bottle. He is able to drink more comfortably when we are on the go.

This is a fantastic water bottle. It is large enough to carry plenty of water and yet it is not heavy at all. We use it when we go to dog parks and on walks. I don't like my dog drinking from the communal dish at the dog parks.

Love! Our dog loves it too. Definitely an essential if you travel or hike with your pup. It's so compact yet has a big enough bowl for a medium dog to drink out of. Very easy to clean as well and doesn't spill! What more could you ask for! 🐶🐾

Very happy with the travel friendly aspect of this and sleek design, fits well in my center console of my car.

I can't say enough about this water bottle. I have a puppy who is around 25 lbs and growing. We hike several miles twice a day and this is perfect! The bottle already came assembled so all you have to do is unscrew the top and fill with water.

Great value for the money. Simple to use and our double doodle has no issues drinking from it.

Product arrived on time as described and of good quality. I purchased it for my son and daughter in law who take their dogs to agility training and after attending with them I realized what a hassle it is carrying around a bottle of water and the collapsible bowl. This item makes is much easier, quicker, and convenient to use during the classes. The dogs love it as well! I'm sure we will be purchasing another one (or two) in the future!
Make your walks much more enjoyable
This 16 oz travel water bottle is made of soft silicone that you can easily collapse when empty to fit inside your bag. Silicone is also more ocean-friendly than plastic, so this is a great option for those who are more environmentally conscious.
Suitable for any indoor & outdoor activities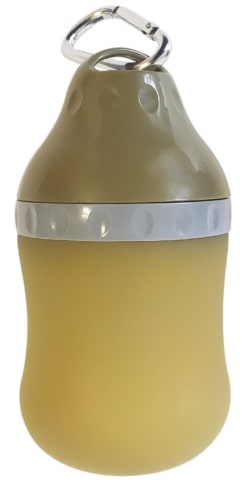 Portable & convenient
Made of soft silicone that is great for any travels. Lightweight and easy to carry with a carabiner buckle. It can be attached to belt loops, backpacks, leashes, or other places.
Capacious & leak-proof
This bottle holds 16 ounces of water. The leak-proof lids prevent liquid from leaking. Made of 3 parts that can be detached for easy cleaning. The cap can be used as a drinking cup.
The perfect water bottle for your furry friend
The Eco-Friendly Silicone Dog Travel Water Bottle from Jojo Modern Pets is perfect for hiking, walking, trips to the dog park, road trips, vacations, and any other time you're away from home. This water bottle is made of high-quality silicone, odorless, durable, dishwasher-safe, and easy to use. The silicone used to make this bottle is food-grade safe and BPA-free. Great for dogs and cats, better products bring a higher quality of pets life!
About Jojo Modern Pets
Jojo Modern Pets started with the idea that people want beautifully designed pet products that match their home. JoJo Modern Pets has great offerings for small boutiques and regional pet chains. We provide the basics with a unique twist and something people can't find other places. We can pre-ticket some items with your brand or help you source products you know your customers will love. JMP is stocked with domestic inventory at our warehouse in Illinois. We work with customers to do it "their way." Case packs, moqs and pricing that makes sense for independent stores. At JoJo Modern Pets we pride ourselves on making our customers more money.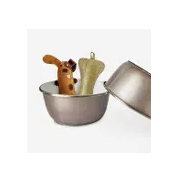 Designed In
Oswego, Illinois
View full details
Eco-Friendly Dog Travel Water Bottle
SUBHEADING
Recently viewed products