Fancy Fish Toy
Reviews
Our reviews are verified for authenticity
My dogs love fluff and tuff, I don't even bother with other brands

This is cute toy but it is for more relaxed chewers, a heavy chewer will destroy this quickly. My dog takes care of her toys in general and loves it.

Love this toy !!!!!! We recieved it today and my dog will not let it go. I have a 10 month doberman and so far it's still in one piece. Will have to order another for my other doberman :)!

I bought the fish toy and my dog grabbed it out of my hand and ran! He's running around, shaking it, as I write this. My dog loves this material for his toys. The squeaker is easily squeezed for my 20 lb terrier and the toy seems very well made. I'd buy it again!

My Rocky boy is hard on toys and at 18 months he's very into chewing and roughhousing. This toy has become a favorite or his and has withstood the one hour mark with Rocky, most don't last 20 minutes.

My dog LOVES it, maybe a bit too much, because in a matter of minutes, when we weren't watching, she chewed off most of one of the side fins. So we renamed it Nemo.
For long hours of excitement
There are plenty of fish in the sea, but none of them is this fancy! The Fancy Fish Toy is the stuffed dog toy your pup will want all year round even when there is no sea in sight.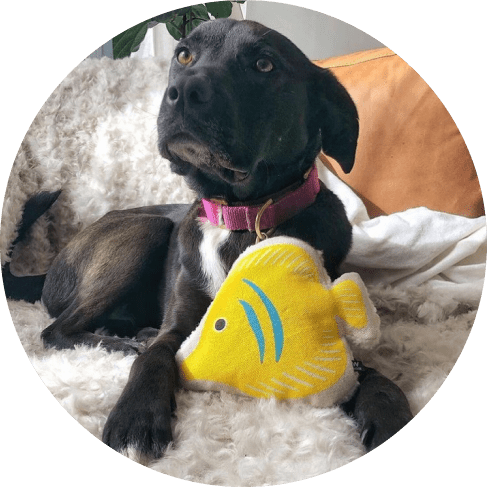 Challenge your pet to use to fish out the prize
It is sure to become your pooch's next favorite
Relieves stress & anxiety
Dogs are bundles of energy and love to play: playtime keeps things interesting, preventing boredom whilst helping to relieve stress and frustration.
Make playtime even more fun
This fun and durable modern dog toy features a squeaker to keep your dog entertained for hours and hours and is as soft as can be.
Soft, durable, and fancy
Featuring heavyweight canvas, fleece, and poly filling, this toy is a real catch for any pup to have around.
Safe non-toxic material
The design is made of 100% non-toxic rubber - this toy is intended for dogs, but it's child-safe as well!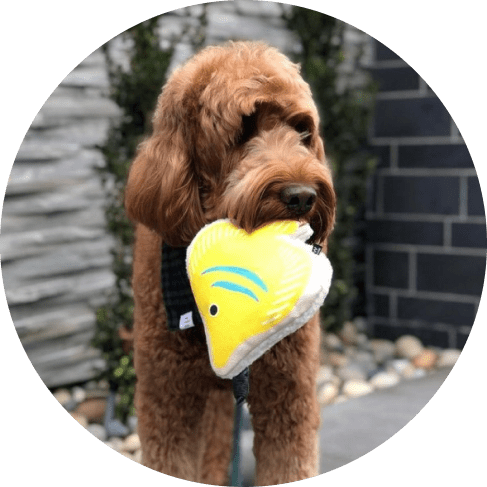 Bond with your furry best friend
Playtime is one of the best ways to bond with your dog, also providing them with the exercise and stimulation they need to live their best life with you. Provide your companion with a new toy to play with - the Fancy Fish Toy. It is sure to get their tail wagging!
View full details
SUBHEADING
Recently viewed products