Galactic Shimmer Nylon Ribbon Collar
Reviews
Our reviews are verified for authenticity
My pup looks adorable in them and I have back up!

I absolutely love the print. They're great for the money. Incredibly durable.

Bought them for my three cats who all needed new collars. They are very pretty and the colors pop .

Good quality, easy to use, cute accessory

Love everything about these collars. Awesome design. Great adjustable range. It's nice to know that my cat can have fun and be safe at the same time.

Cute and high quality cats and dogs collars.

Nice collars. Very pretty. I like them!

Adorable collar ! We love them!

This is a fun themed kitty collar. The breakaway feature works well. The colors are vibrant. They seem to be sturdy and well made. My tuxedo kitties look sharp in these!

My 2 cat-babies have an entire wardrobe of funky collars to go with their quirky personalities. These galaxy collars are not only a nice addition to their wardrobe, but they are also out of this world! They're what you would expect of a typical cat collar in regards to quality. My fully-clawed cats always do a little collar damage over time when they scratch themselves - and I expect this to fray a little just like other collars we have. It's nothing a little scissor work and a wash in the sink won't take care of, though.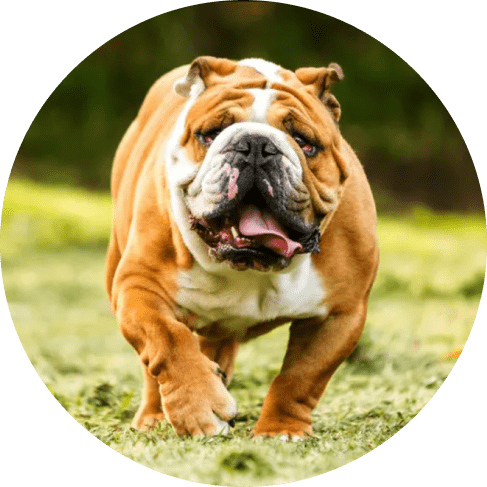 Protect your pet in stylish way
This 3/8″ wide adjustable dog collar features a galactic-themed array of spiral galaxies and stars in neon colors. This collar, made of durable nylon for your pet's comfort, comes with a high-quality ribbon overlay design.
Reliable for everyday use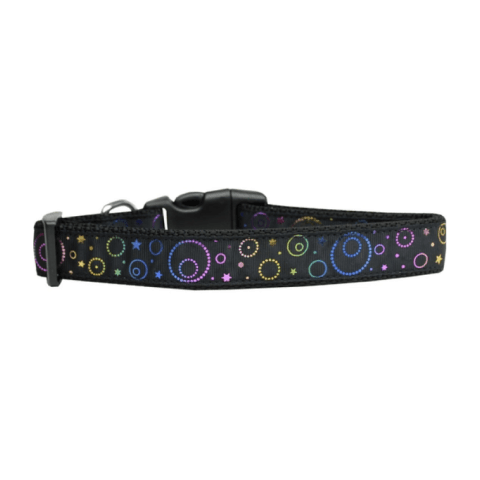 Designed for a comfortable fit
Fits neck sizes from 10" to 14". This fabulous collar features a heavy-duty adjustable slide for the ideal custom fit, which makes it a perfect accessory for both adults and growing animals.
Safety & convenience
Features a high-quality metal D-ring that seamlessly attaches to any leash. It includes a buckle specifically designed to break away in the event that your pet becomes entangled while wearing it.
How to determine your pet's neck size
Measure around the center of your dog's neck where the collar sits using a tape measure. If you do not have a tape measure, you may use this method with a piece of string and lay it next to a ruler or yardstick to get an idea of his or her neck size. There should be no room between the measuring tape and the neck, but the tape shouldn't be pulled around so tightly that it's choking your pet. Add 2 inches to the measurement to determine your dog's neck size.
About Mirage Pet Products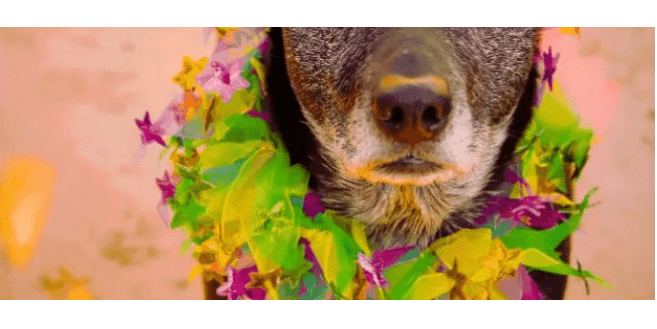 Mirage Pet Products got it's origins in El Monte, California in 1957 at a belt factory. A belt customer brought in a dog collar and requested that the belt factory add some crystals. The rest is pet industry history. Six generations of family have helped make Mirage Pet Products what it is today. Focusing on quality over quantity, we make as much as we can in our small factory in southern Missouri and we sure have a lot of fun while doing it!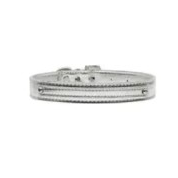 Designed In
Mount Vernon, Missouri
View full details
Galactic Shimmer Nylon Ribbon Collar
SUBHEADING
Recently viewed products