Heart on a String - Reward Ball
Reviews
Our reviews are verified for authenticity
I think the ball is durable but the the string is not. My Rottie destroyed it, may be because he is an aggressive chewer.

Seems solid enough, my dogs are super excited for it which is great for training. Heavier than expected and plenty large enough it's not going to get stuck in anyone's throat. Wish they made one that was tennis ball sized (2.7") that would be ideal. Overall good toy, just wish the sizing was a little different. :)

Great price for the dog ball, it will be well used in training.

Love this toy! But my Belgian Malinois completely shredded this in a week.

Love love love this product. Very durable!

My dog loves this. She is a high drive German Shepherd, and we use this for her training reward. Will not hesitate to order another when she wears this one out.

Awesome toy. Good, solid rubber ball with a fairly long rope attached. The rope itself is a little thin, but I don't feel like that effects the quality any. My dog absolutely adores this toy.

I have a Czech Shepherd and we use this everyday for PSA training! Its a great training tool!

I have a difficult time finding these at dog vendors when I'm at dog shows. I also have a hard time finding them at stores. I lost mine and have wanted to replace it and this is exactly what I was looking for. My lab destroys tennis balls on ropes and I find this hard rubber is perfect.

Love this training heart. Rope fits tight in the heart so you can play tug of war too and not worry about the rope either breaking of popping out of the toy. Bright color. List one at the dog park. I've got a German Shepherd Dog and he cant even destroy it.

I've been using this toy to play fetch with my German Shepherd for over a month and it is the best of several I have tried. Its heavy weight combined with the long rope allow it to go 1/3 farther than others I have used. The large size is great for bigger dogs. The heavy duty rubber makes it quite durable. If you use this toy as intended, it will last a long time. If you are looking for a chew toy, get something else.

Heavier toy than most rope balls, but it bounces more and can stand up to rigorous chewing better.

My doggo sometimes like to pretend to give me the toy then change her mind and take off! With the rope I can finally grab it and play tug of war with her :)

This toy has held up to my Malinois For over a month now and is doing great!

Our pup loves to retrieve and play tug with these. I recommend you buy two so when your dog brings one back to you you can throw the other causing them to drop the one they just retrieved.

I really like this toy, as it is the cheaper version of the happy ball used in a few training classes we have been too. The size is perfect and when my GSD chews the ball as he is bringing it back it doesn't fall apart. It is heavy and being throw with the rope you can really get some distance… The rope however is flimsy and not very durable… But it is also not lent to be chewed on and my two GSDs like to pull on the rope as well. Overall great ball for the price and I will be ordering a couple more!

My dog loves this! It's the only toyl she will play with. She plays with it everyday ...and often walks around with it in her mouth. Lol! So, even though the one I bought back in April is still in great condition (like new), I just ordered another one now to keep for her in case the other wears out or if it ever gets lost. She would be heart broken without her toy.

My Dutchie is extremely hard on toys (think fuzzy velociraptor) and I have been through several roped-balls from other companies. He has murdered them all. Ball is almost bombproof. I use this toy as my dog's primary reward in Search & Rescue training. It's important to limit use of a toy like this to maintain its high value status. He stays motivated to work and earn his ball for a tug session after he finds his "victim" in our training scenarios. If your dog loves balls but also lives for tug this is the toy for them. Don't waste time and money on anything else. Thanks!

As for my 4-year-old Boston Terrier, he absolutely loves this Dog toy. First, like with any dog toy, I washed the ball and the rope with soap, thoroughly! Next, I sat my little boy down, and taught him to be careful, because he can get way too over excited and the heart is on the heavier side, so I did not want him to hurt himself...of course, he didn't hold back for long. He loved playing with and played until he could not breathe anymore! I had to use my newly acquired fan to cool him down, and then we played another round of "Spikey Heart!" My only gripe with the product is the rope. My boy chewed through it in no time. I simply took the rope and replaced it with another stronger rope, and my boy is as happy as can be. Excellent dog toy!

I use this ball for training and for running my working GSD. We both love this heart. I love it because the string never pops out or comes undone and because the string is long enough for me to launch it far. My dog loves all toys but this one is a good size for her. I am amazed that someone gave this ball a bad rating because their dog chewed through the string. YOUR DOG SHOULD NOT BE LEFT UNATTENDED WITH THIS TOY. I personally do not leave any of my dogs unattended with any toys. Toys are such a choking hazard. With that being said, I am guilty of my dog chewing through this string. Haha. However, that is no ones fault but my own and she will usually grab the toy and run to lay down and make quick work of it but that's the same with any ball with a string. I highly recommend this ball for training and fetch purposes.
Retrieving ball for power-chewers
Help your dog fight boredom with this fun new toy
The Heart on a String is an ultra-durable chew and retrieving dog toy. It can also hold a small amount of treats and/or peanut butter to add additional interest. Made from natural rubber which is harvested from rubber trees, it features a natural and sustainable material.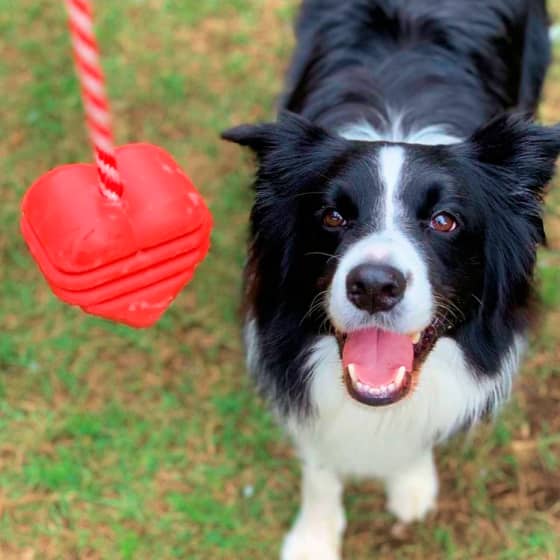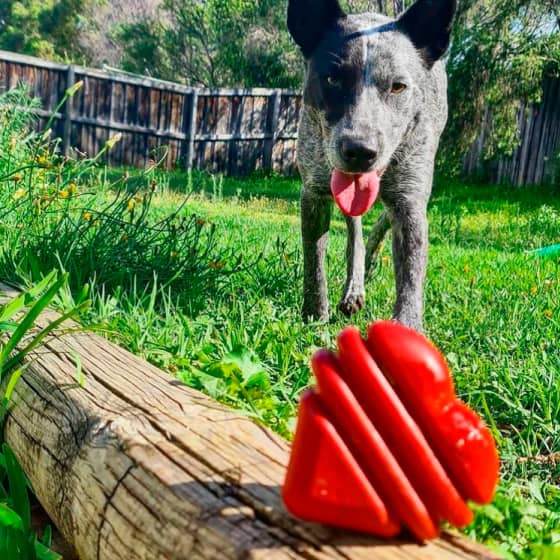 Designed for the most powerful chewers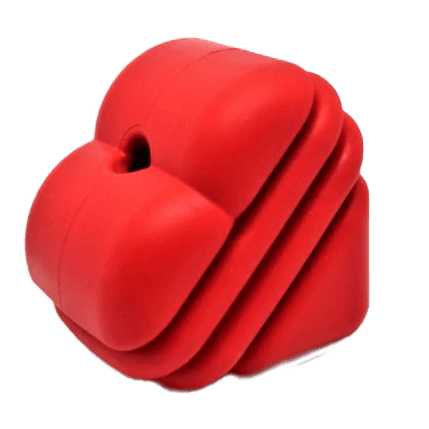 Reduces problem behaviors
Reduces problem chewing, helps reduce boredom and relieves separation anxiety. It is a great retrieving toy as well. Give it a throw using the rope and let your dog use up some extra energy!
For dental health
The ridges on this retrieving ball are stimulating for your dog while also cleaning your dog's teeth while it chews, helping prevent tooth decay and bad breath.
Natural ingredients
Manufactured in the USA where the integrity of materials, the process, and the overall quality can be ensured. SodaPup's all-natural rubber compound is FDA compliant, non-toxic and biodegradable. It is sustainably harvested helping to reduce the carbon footprint. This ball is animal and planet friendly!
About SodaPup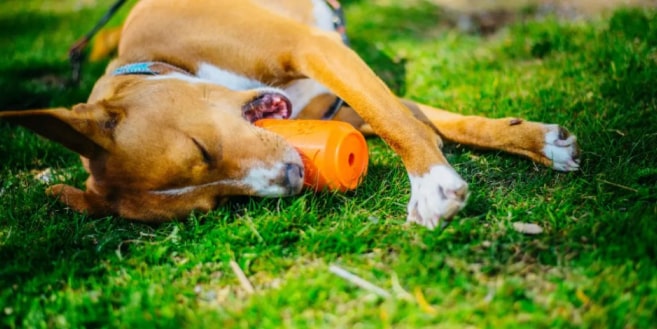 At SodaPup we specialize in creating fun and innovative dog toys for dogs that destroy everything! All of our products are made in the USA and are FDA compliant, meaning they are the safest dog toys in the market today. SodaPup has developed several brands, each with a unique theme that appeals to different consumer segments. Our brands are SodaPup, USA-K9, Industrial Dog, MuttsKickButt, Spotnik, and Harvard's Finest (our brand of grain-free dog treats). SodaPup gives back to the communities it serves, directing contributions to animal shelters as well as dog-related veterans organizations.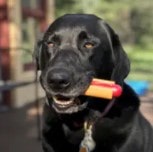 Designed In
Boulder, Colorado
Add an additional description to your products. You may set the same content for all products.
Ex: Shipping and return policies, size guides, and other common questions.
Or you may link a dynamic source to show product fields like vendor or custom product meta fields.
Ex: Ingredients, nutritional info, additional features and other unique per-product data.
View full details
Heart on a String - Reward Ball
SUBHEADING
Recently viewed products