Life Saver - Chew Toy
Reviews
Our reviews are verified for authenticity
I highly recommend this toy, it's one of the best if not THE best we have had so far!

A great toy for chewers, will buy other toys too!

It is worth every penny I paid! My dog love it so much, never leaves the toy till she eats all the treats

My dog is like a chainsaw with her teeth and this thing is the only toy so far that has held! Well done!

Definitely don't regret purchasing this, a nice toy, solid material, very durable, it's been 2 months and no scratch!

That's a real catch for active chewers and restless dogs!

Our dogs can't share this one hahah, will buy one more. My bad, Leslie… (my other dog) Highly recommend!

Our girl very diligently eats all the treats we put in there, it keeps her entertained, which helps me, cuz at the certain time of the day I need silence because of work.

I have two dogs, bought one for each. The toys have held up great and the dogs love them!

Seems very durable as our dog is an avid chewer, at least so far. I like the fact that this is a veteran owned business and products are made in the USA. They have some military inspired items, too, which appeals to us since we have a Marine in the family.

Bought this for our rescue dog. He absolutely loves it. He spends hours playing with it. He even takes it to him bed to sleep with. 5/5

I have an Aussie and she chews up everything. I have had this toy for months and she loves it. So far she has not destroyed it. It is a little easy for her but it keeps her entertained for a short while

Unfortunately, my dog was not captured with it after the first 5 minutes ahaha She loooves it!

I bought this after we saw pups playing with it at our dog training sessions, and both my puppy and I love it! I stuff it with broken up larger dog treats and dog kibble of a different brand than our pup normally eats (so it's like a treat). He really enjoys this toy!

It is a great toy because, first, the dispenser won't let devouring treats at one go, keeps the dog busy, entertained, lets you control the nutrition best, and, second, is super durable! Recommend to everyone!

Our 87 pound Golden Retriever is a voracious chewer and toy destroyer. Nothing would last until we tried the Soda Pup Life Ring. He loves to chase it, retrieve it, play with it and chew it. After 2 months the toy has plenty of teeth marks and slobber, but still going strong.

I have a 70 pound pitbull/boxer and he absolutely loves this toy! He loves to chew and this ring holds up extremely well under his energy. I highly recommend this chew toy!

I love the products and the customer service is fast to respond and willing to do to whatever it takes to keep our fur babies happy. Super happy and our baby loves them.

We bought our second and third life ring treat dispenser replacements as this is our dog's absolute favourite toy. He's had his original for a year now and finally he broke through it so we bought two more. One is being hidden and the other will be a replacement. Best toy we ever bought. He's the ultimate power chewer.

We give our senior lab coonhound mix his life ring toy at night just before bed. It had frozen Kong stuff-n inside and he can't get enough. It's perfect because it won't move around too much and he can stay in one place and eat it until he tires himself out. Super easy to clean and fill with treats. Two paws up.

My puppy "Sully" loves his Life Ring!! I mixed his daily dry kibble and some canned food,packed it into the ring, and froze it overnight. It kept Sully busy for almost an hour. Whoever designed this toy deserves a BIG raise. Well done!

My pit bull loves his other Soda Pup Soda cans. This toy lasted under 10 minutes. He got the treats and then destroyed the wheel.

I fill these with soft treats like peanut butter and freeze them. My pup loves them and it keeps her busy for hours. She prefers these over her kong toys. We have three and I will buy more!

Super helpful for power chewers, our girl enjoys when we put treats in it!

Puppy loves it. Fun to watch her throw it around trying to dislodge treats. The tire itself is very durable, only part not was the small, odd piece she chewed off day one. Not sure why it was there. I'd suggest it not be and she agreed.

Indestructible! My GSD can get threw anything including my couch not this though. He loves it and I love that he loves it.

My 60lb mutt is an extreme power chewer and absolutely love his soda pup! His first one lasted a year before it started fraying! will reorder when he needs another. Best toy yet for a power chewer.

We have 2 German Shepherds, one being trained in bite work and narcotics detection. These are absolute destroyers of toys... these are the only toys that can stand up to them!

Another great chew toy for my dog's collection, love this dispenser! We have a few of the other toys and I can confirm they all have lasted. I love these toys and am so happy I came to the website cause now I can buy him some new durable toys! If you are on the fence don't even hesitate and buy this ring toy, you won't be disappointed!

So happy I found this site! We did bark box for a year and this was one of the toys we received. We have an Australian Cattle Dog and while he's not as big as some dogs (43 lbs) he loves to rip toys apart. I've spent hundreds of dollars on toys in two years. This one we have had over a year and while it's def got some teeth marks it's still going strong! He chews it every night before bed and when we go away for the weekend we always make sure it's packed with us. This is one of his favs and I'm excited I can buy him a new one!

My Boston Terrier is an extreme chewer. Nylon toys are the only ones that have a chance at lasting a good while. I was happy to find SodaPup as another nylon toy option. I ordered a handful and all of them have been a hit! Completely entertained!! Chew, chew, chew! Order processing and shipment were quick, which was awesome! We'll be back for more!

Our dogs are power chewers and by that I mean they destroy normal toys within minutes. We have been using GoNuts which are amazing , however, both dogs over time figured out how to destroy those as well. I got one of these in a Bully Box, and neither dog was able to destroy it. We had them for over 3 years. Both my dogs are gone now and we are getting ready to get another one so I ordered this now because in my opinion it is the best dog chew toy out there. Hours of chew time without destruction or pieces coming off of it. Just awesome!

I bought this toy to use along with other stuffable toys to feed my puppy meals. As soon as this arrived I took it out of the packaging and gave it to puppy to sniff/play with. He pretty quickly tore the loop at the top, so I cut that off before he could rip it off and eat it. The shape of this toy makes it a bit hard to stuff (but that also means it takes a while for him to empty) and it doesn't hold much food. Luckily my pup doesn't need much food, but that might not work for a larger dog. It also works well for stuffing with a shmear of peanut butter.
Life safer chew toy
Help your dog fight boredom and problem of chewing behavior
Having the idea of special care for your pet in mind, this dog chew toy is designed to help you solve a number of problems you're likely to have with your dog. Meanwhile, this clever toy design is in the shape of a life ring (or your favorite hard candy), and it is a durable chew toy made of PETstrong materials to withstand even the most aggressive chewers. So keep your dog always entertained and healthy.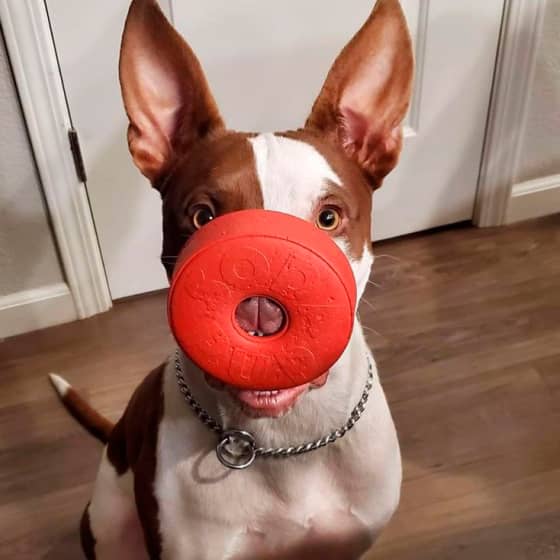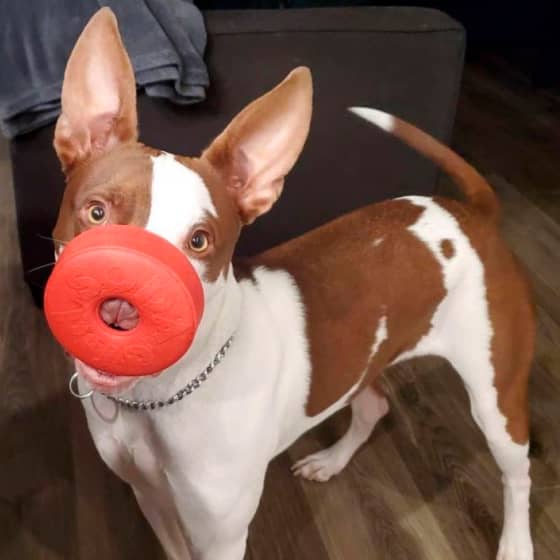 What's so special about this toy?
Make your pet feel happy with this chew toy. It's made of ultra-durable nylon, non-toxic and biodegradable. It is sustainably harvested helping us reduce our carbon footprint. These are widely accepted by veterinarians, so you can make sure it won't hurt your best friend in any way. Meantime, due to its sizing, it suits medium sized and large dogs perfectly. Actually, there's more to pay attention to.
Safe: non-toxic and biodegradable materials
Veterinarian approved
Size: it suits dogs up to 30-65 lbs (15-30 kg)
Designed and manufactured in the USA
Easy to clean: dishwasher safe
Why is it a must-have for your dog?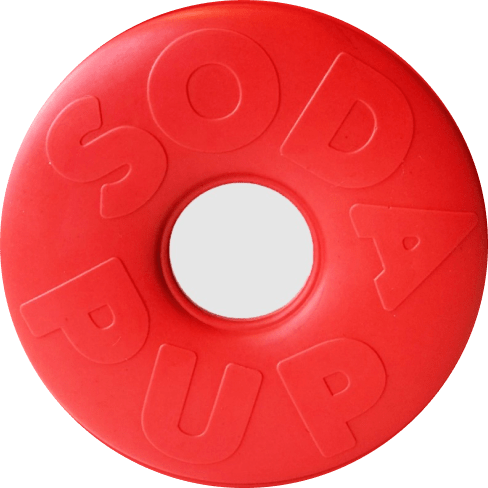 Reduces problem behaviors
This lifesaver dog toy for strong chewers reduces the problem of chewing, helps reduce boredom, relieves separation anxiety, and gives your dog a fun and interesting challenge.
Ensures dental health
Our chew toy helps your dog maintain good oral health! The contours of these strong dog toys and the chewy nature of the material helps keep your dog's teeth clean and breath smelling fresh.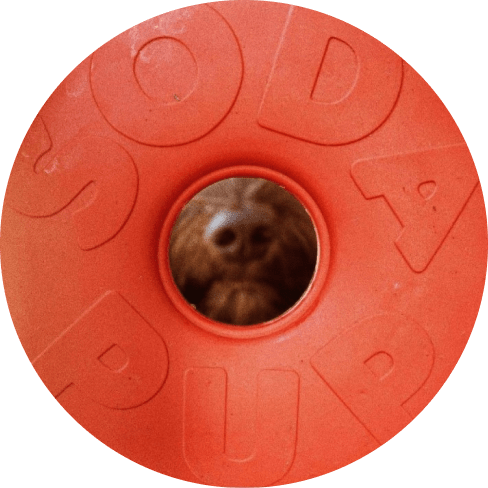 Suits medium sized and large dogs
This toy suits medium sized and large dogs. Its dimensions: 4.25" diameter, 1.5" thick, 8.6 oz. Best for 30-65 lbs / 15-30 kg dogs.
Replacement guarantee
We stand by our products and offer a 30 day replacement guarantee. But no dog toy is indestructible. Inspect them frequently and remove damaged ones.
About SodaPup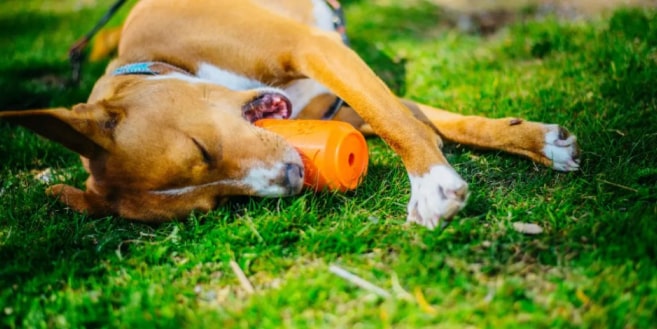 At SodaPup we specialize in creating fun and innovative dog toys for dogs that destroy everything! All of our products are made in the USA and are FDA compliant, meaning they are the safest dog toys in the market today. SodaPup has developed several brands, each with a unique theme that appeals to different consumer segments. Our brands are SodaPup, USA-K9, Industrial Dog, MuttsKickButt, Spotnik, and Harvard's Finest (our brand of grain-free dog treats). SodaPup gives back to the communities it serves, directing contributions to animal shelters as well as dog-related veterans organizations.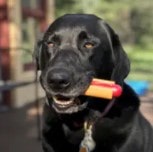 Designed In
Boulder, Colorado
View full details
SUBHEADING
Recently viewed products