'Merlot' Adjustable Dog Harness
Reviews
Our reviews are verified for authenticity
This is a beautiful harness.

Nice material,very comfortable,my dog loves it!

Fast delivery. Exactly as described.

I've bought a lot of dog harnesses over the years. This is my new favorite.

It's a bit hard to clean, but really, I don't have any more complaints. Definitely do recommend.

We love this harness! It's the third one we've tried for our new pup, Disco.

Absolutely love the style, fit, security, and light but strong material the harnesses are made of.

Finally, I finally found one that fits. Plus this is the best one I've tried. It's made very well, it's comfortable for my Chi, and he gets excited to put it on.

These harnesses are light but not flimsy and they are super comfortable for our dogs to wear.

My one year old Shih Tzu could escape every harness I put on him until this one. I highly recommend it

Although I made the mistake of purchasing a harness a bit too small, it is a nice product.

This harness works pretty well on my dog (who resists other types of harnesses). Easy to get on and take off.

Perfect!! our little guy is 2.25lbs. I was looking for something he couldn't back out of and escape. And this one works great

Easy to put on. SOOOO easy to put on. Comfortable for the pup. We have a 14 pound Westie mix. Doesn't interfere with his walking and running. The leash doesn't get tangled up. Excellent product and well worth the price which was quite reasonable.

My Jack Russel is a hyper little escape artist!! I have tried so many harnesses and he always finds a way out! It's been very frustrating. Until now! This harness is amazing!!!!!! He can't back out of it and he is very comfortable. It's tight enough that it's comfortable for him but also snug enough that he can't get out. Plus, it's super cute on him. Very happy customer. Wish I had found this harness years ago!!!

This is the right harness for my 4 month old pug. The buckle is on top interlaced with the strap, so there is no worries about the buckle coming off when my dog tugs or pulls during walks. I had a harness with tiny buckles on both sides of my pup's chest, but the buckle often came loose during brief walks and I was afraid my pup might run off. The material is soft and flexible too. I'm not sure if it's water-proof though. Anyway, I'm not worried about the harness coming off my pup and got to enjoy the walking.

Love this harness! At least I think my dog does ... I will definitely be buying this again when he grows out of his large, if he does. Frenchies have sensitive backs!! For anyone who has a frenchie, dachshund, or other breed prone to back problems, this would be a great harness for them! And it is NOT recommended to walk dogs like this on collars! So get them a harness, preferably this one! Their backs will thank you for it :)

Third time purchasing this harness. Originally I was looking for something on the cheaper side because my pup is growing quickly and I knew it wouldn't be used long, but needed it to help with leash training. I didn't expect much but I've been pretty pleased. Definitely helps control my energetic APBT while on her leash, hasn't started to rip or come apart anywhere and looks great on her. She doesn't seem to mind it, and would have no problem letting you know if she did lol, so I assume it's comfortable for her too. Good product at a good price, recommended.

I am a dog trainer with a 12-week old Norwich Terrier. Small yes, but being a terrier, quite chesty. Being a dog trainer myself, I do not use vests to walk or train my dog. However, my little guy needed a vest to wear in his car seat that has two restraint straps. I can't speak highly enough about the quality and fit of these vests. So much so I ordered two more in larger sizes as he grew. SO many compliments on this stylish vest, people ask where I got it from, and I'm proud to tell them. It is SO well made, and easy to use, my little guy just lifts each foot on his own to step into it. What could be better? Best vest out there in my opinion.

I've shopped so many different breed specific websites trying to find the perfect comfort-harnesses for my mid-sized dachshunds. They are bigger than miniatures but smaller than standards. The thing about dachshunds is their chest is larger than the typical small breed, and it is so important to protect their backs from injury. This harness looks EXACTLY like the ones sold on dachshund specific websites, but for nearly 1/3 the price. I get lots of compliments for how cute they look and the fit is perfect. Not a single rash or chafing on either of my pups, even after miles long hikes. My little girl pup has sensitive skin with some dilute alopecia in her armpits (hairless patches), and she has never shown any signs of irritation from this harness. It fits loosely enough to wear over a sweater in the winter while still being breathable in the summer, but still snug and secure - no wiggle room to escape.
Merlot dog harness
Designed for a better pawtection
Created for the Merlot collection, this awesome harness is custom printed on the neoprene fabric with breathable mesh. One D-ring on the back is for the leash attachment and another versatile front D-ring can be used for "no pull" or tags. The harness is fully adjustable in both neck and chest areas, making it the perfect fit! To fit the XS size, your dog measurements should be the following: neck - 10-16 in, chest - 14-19 in.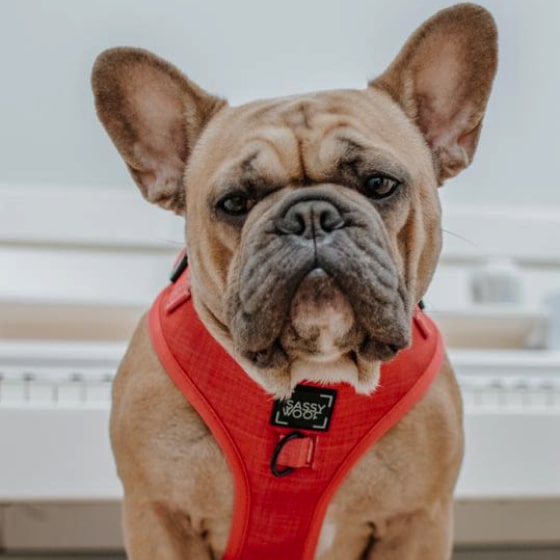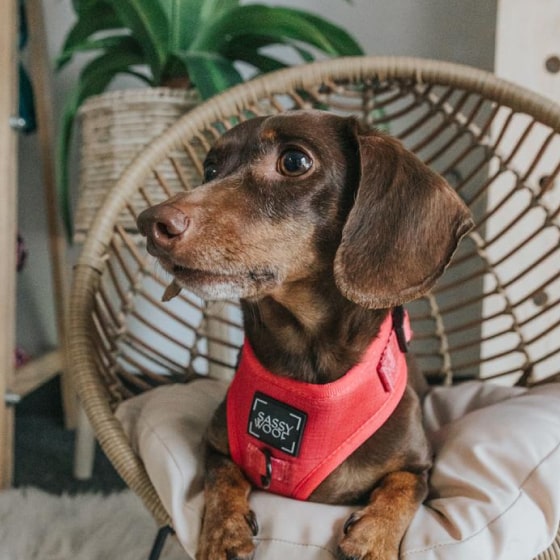 Adjustable dog harness
Made with love and care
Durable and comfy
The Merlot Harness is strong and long-lasting. It's comfortable for your fur-baby and perfect for daily use!
Excellent quality
Custom printed neoprene fabric with breathable mesh. The harness is great for extreme wear, lasts long, and needs no special care.
Support a good cause
A part of the proceeds are donated to animal charities. Every harness purchase feeds a shelter dog. Make your contribution and help shelter dogs suffer less!
Cute design
The designs of the Merlot collection are the direct result of endless hours of careful thinking and meticulous attention to detail and crafting.
Make your puppy the coolest kid on the block
This stunning harness will steal the show with its bold color. A classic red hue, the 'Merlot' collection is a great choice for any dog. Make your puppy feel comfortable and look dope at the same time!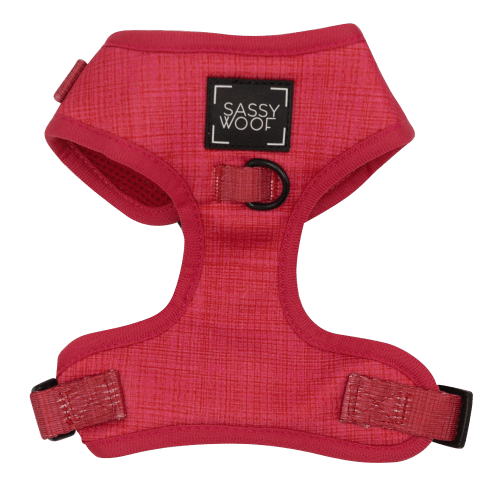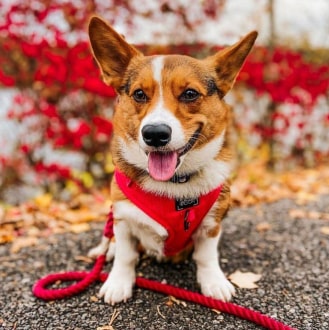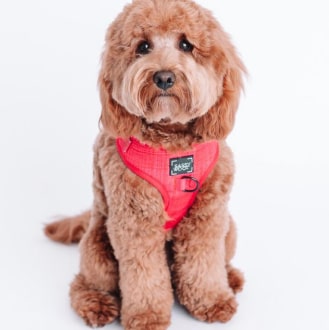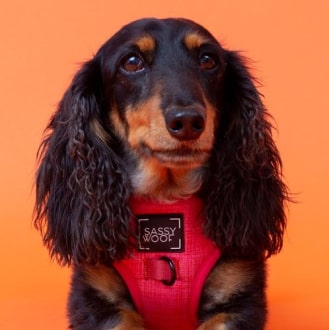 About SASSY WOOF
Modern. Classy. Affordable. Inspired by our two sassy & spunky dachshunds Maya The Dox and Winston The Dox, we created Sassy Woof to deliver a dog apparel experience that makes your fur-baby feel comfortable and fit for daily use. Our designs are the direct result of endless hours of careful thinking and meticulous attention to detail and crafting. We focus in developing new accessories and products every season to keep your pup's wardrobe as fresh as yours without breaking the bank. Our customers are like our family and we love interacting with each and all of you! Sassy Woof is a small business proudly based out of the suburbs of Washington D.C. A portion of our proceeds are donated to animal charities because no pet should suffer in this world.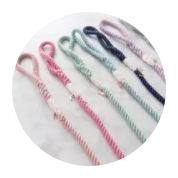 Designed In
Sterling, Virginia
View full details
'Merlot' Adjustable Dog Harness
SUBHEADING
Recently viewed products