Rainbow Dog Leash
Reviews
Our reviews are verified for authenticity
Got this one after liking the first one so much! Recommended and it came on time.

Love this leash, came to me in perfect condition and just as described.

Super stylish + durable. My favourite leash !

beautiful looking leash, no problems whatsoever

The leash looks great and has a nice weight to it.

Works as intended and looks good too!

A nice leash, a bit short though

Very nicely made and very trendy

It's beautiful and seems durable

Very soft and beautiful leashes.

This is a very pretty and well-made leash. I like the softness of the rope (and it's not too heavy). Only wish it was about 1' longer!

Nice braided look with vibrant colors.

Adorable leash!!! Great buy, have not seen anything like it in stores

I've had it for 2 months now, I love the color, my dog pulls really hard and it's strong enough.

Very trendy, affordable and durable leash. Comparable products can cost up to $80, so happy I found this before wasting a ton of money.

Highly recommend it. So glad I didn't pay triple this for the same leash on a boutique website, exact same thing!

It's really attractive. Love the tie dye like color effect. I'll probably use it for my smaller dogs though. My larger dog was super hyper and latched onto it like it was a rope toy. He usually doesn't use his leash as a toy but I think it reminded him of one. It surprisingly survived though and looked unharmed.

It's perfect. Super cute, very comfy for me and my pup + it's very stylish. 100% recommended

Bought this for my 48lb dog because he can pull sometimes. We use the same type as lead ropes for our horses because cotton is easier on your hands.

Super good quality, color, and durability. Also - it's so cute & I get tons of compliments when I am walking my pup!

I thought this was a horse leadrope but it's definitely for dogs lol luckily I have a dog and it's super nice! They should make ones for horses lol

Very soft in my hands, doesn't hurt like those nylon ones do! Easy to hold and so far is holding up pretty good! Love the style! I get compliments on it often

This thing doesn't have enough reviews- it's so beautiful, and it does the job. I have a pretty big and strong dog, and it works well with her

Colors are beautiful in person and the clasp feels sturdy. The quality is great for the price. It is easy to hold and doesn't hurt my fingers if my dog pulls a little. Love it!

Love this leash!! I have a Siberian Husky and I love using this for training, it's sturdy and as much as it's touched the ground it hasn't even dirtied up 10/10 recommend

The quality and colors of this leash cannot be beat. I get compliments often when walking Jellybean. The durability and coloring has held up remarkably over the months of multiple daily uses. Just plain love it. I'd buy it again in a heartbeat🐾😊❤️

I love this braided rope leash! The rope feels soft and with its thickness, it is very easy to hold. It also seems more flexible/stretchy than typical nylon or leather leashes, which I like. It seems very durable unless your dog starts chewing it. My puppy was attracted to the rope. The colors are very nice too.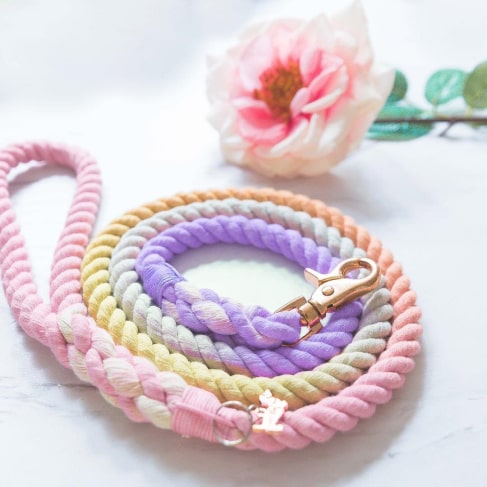 Rope dog leash
Your dog is sure to turn heads wearing this colorful dog leash! Bright rainbow rope will definitely add a pop of color to your pet's wardrobe.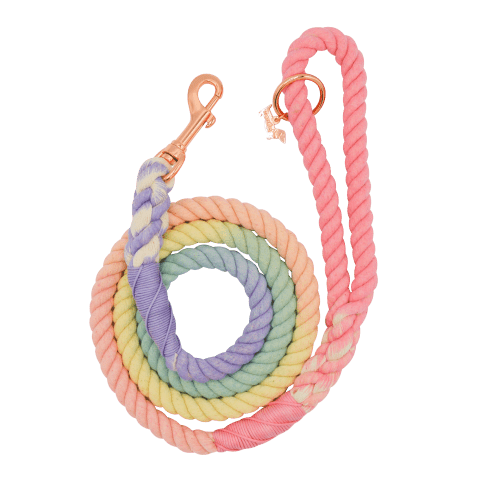 Durability is a must
Made with strong, 100% cotton. The Rainbow Dog Leash is hand-spliced, and its ends are whipped to add strength and resilience. The leash is 60 in long and 0.6 in wide.
Rainbow colors
The natural dye of the leash comprises all the shades of rainbow colors: ombre pink, orange, yellow, green, blue, and purple. It also has beautiful rose gold hardware with a matching dog charm and accessory ring.
A leash that last forever
Care instructions
Keep it clean
Do not wash this leash in the washing machine. It requires a hand wash with mild soap and cold water.
Keep it in a safe place
To keep the leash safe and intact, don't leave it somewhere where it can fall on the ground (and get run over, chewed by dogs, etc).
Avoid certain areas
Keep away from salt water and muddy areas. It's better to refrain from rough plays as well.
Watch out for chewers
Don't leave your dog unattended in the Rainbow Leash to make sure it won't chew through it.
Simple but perfect
The simplest leash is your best leash! The Rainbow Leash is perfectly sized and has great quality. It is just right for having your dog walk next to you without bolting ahead. It's safe, reliable, and nice-looking at the same time.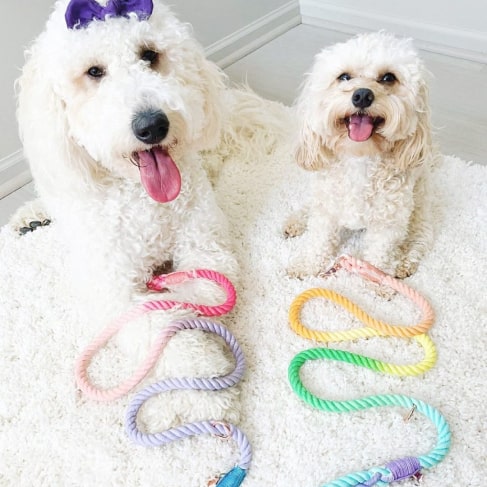 Safety first
The Rainbow Leash is made to enhance and celebrate the journeys you and your dog take together. This leash is designed with safety in mind, and that's why it is absolutely harmless for your adorable pet. It offers you good control and makes your walks safe. Let your dog enjoy the outdoor adventures to the fullest with the Rainbow Leash!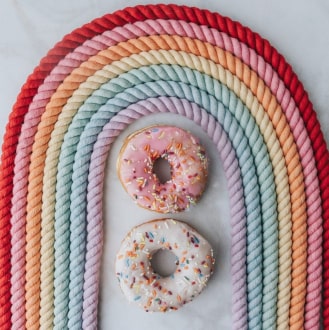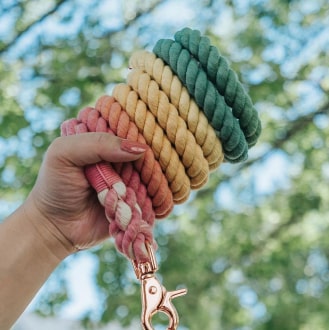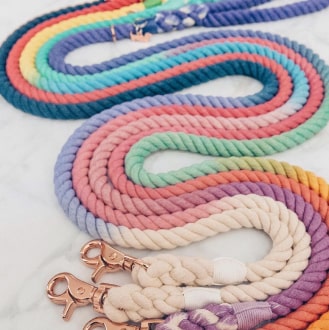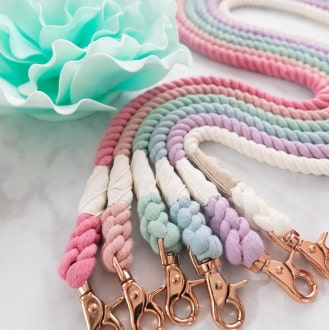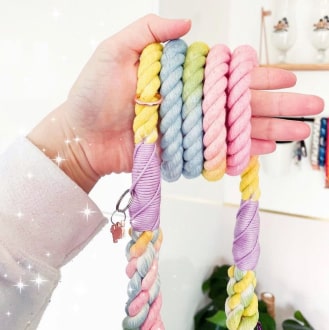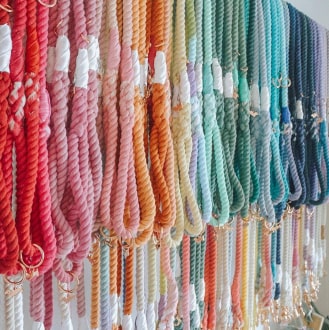 About SASSY WOOF
Modern. Classy. Affordable. Inspired by our two sassy & spunky dachshunds Maya The Dox and Winston The Dox, we created Sassy Woof to deliver a dog apparel experience that makes your fur-baby feel comfortable and fit for daily use. Our designs are the direct result of endless hours of careful thinking and meticulous attention to detail and crafting. We focus in developing new accessories and products every season to keep your pup's wardrobe as fresh as yours without breaking the bank. Our customers are like our family and we love interacting with each and all of you! Sassy Woof is a small business proudly based out of the suburbs of Washington D.C. A portion of our proceeds are donated to animal charities because no pet should suffer in this world.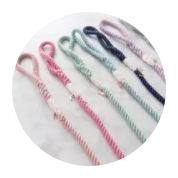 Designed In
Sterling, Virginia
Add an additional description to your products. You may set the same content for all products.
Ex: Shipping and return policies, size guides, and other common questions.
Or you may link a dynamic source to show product fields like vendor or custom product meta fields.
Ex: Ingredients, nutritional info, additional features and other unique per-product data.
View full details
SUBHEADING
Recently viewed products