Tea Tree Foot Deodorant
Reviews
Our reviews are verified for authenticity
I was seriously shocked by the effectiveness of this product. I went from a long term serious foot Odor problem to 99-100 percent cured on the first application. Finally one less thing to worry about. 5/5!

If I could give this product 10 stars I would. I've battled foot odor my entire adult life. I've tried everything and nothing has worked like this product. It is amazing. I hope they never stop making this deodorant. I don't know what I'd do without it!

Does a great job of keeping foot sweat and smell at bay. I thought the size was bigger, but it's not a big deal. Happy I tried it!

Works wonderfully! I'm a nurse and often on my feet. I was buying new and expensive shoes and nursing shoes because my feet would smell within a week after buying new shoes. I used this product and "Giddy Up!"... No more odors. Definitely would recommend this.

Both my boyfriend and I have problems with foot odor and we have both been using this product. This is seriously the only thing that has worked to stop foot odor for me and to not feel worried when I take off my shoes. My boyfriend's foot odor is even worse than mine and even he has not had problems with foot odor after just 2 applications of this! Definitely recommend this product!!!

This product really works! My socks are often sweaty from walking around all day and it often smells very strange after a long day. A mixture of sweat and shoe smell, it is definitely not a pleasant smell. My sister suggested this product and I decided to give it a try. It came quickly. I liked the appearance of the bottle and its size. I tried it on my feet and it worked! I'm soooo happy!

So I've waited a while to post a review, to see how it worked. Finally, here it is. I've had horrible foot odor for years, since I hit my teen years, and hundreds of shoes ended up thrown away when the smell became unbearable and I could no longer wear them- even washing/cleaning them did not get rid of the smell. I have tried all sorts of remedies- foot creams, tea-baths, natural treatments, medicinal creams, if it's out there, I've tried it. Nothing worked for long. Now I've been using this for about a month, and it's...incredible. I would not believe it if I had not experienced it myself. My feet have NO SMELL, for a full 6 DAYS MY FEET DOESN'T SMELL. It's the most AMAZING thing I've ever bought!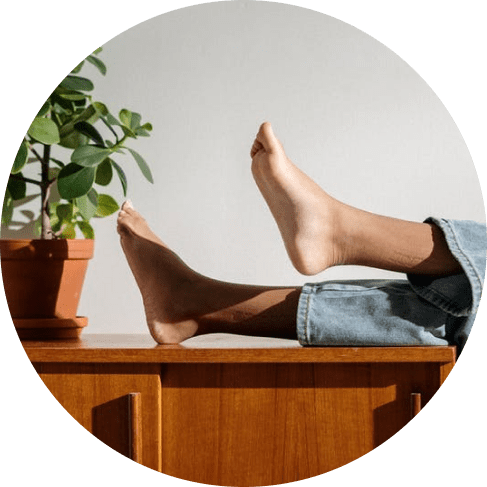 Step into your comfort zone
Keep your feet fresh and ready to go
The cleansing ingredients of Tea Tree foot deodorant help eliminate odors while providing the perfect solution for overworked, hot, dry, itchy, blistered, and irritated feet. This 100% paraben-free and aluminum-free foot deodorant will allow you to conquer the world one step at a time!
Foot deodorant details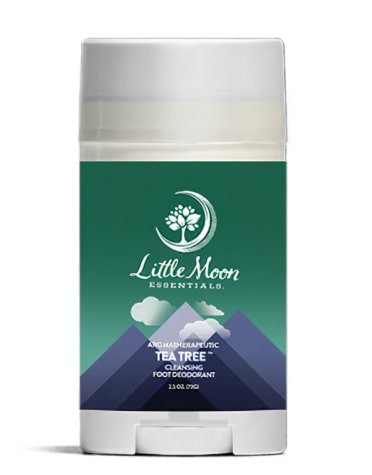 How to use:
• Apply a few swipes to the bottom of your feet for all-day odor and skin protection. • Allow a few minutes to absorb before putting on socks and shoes. • Apply as often as necessary.
The benefits of the deodorant
• Cleansing aromatherapeutic experience. • Refreshing and purifying. • Paraben-free and aluminum-free. • Leaves your feet odor-free and uplifted all day long.
Stay in your comfort zone wherever you go
Not everyone devotes the necessary time to take care of their body and especially their feet. With this foot deodorant, you can keep your feet fresh, clean, and most importantly healthy. Moreover, this antiperspirant features natural ingredients, such as peru balsam, tea tree, and vetiver, to ensure natural protection for your feet.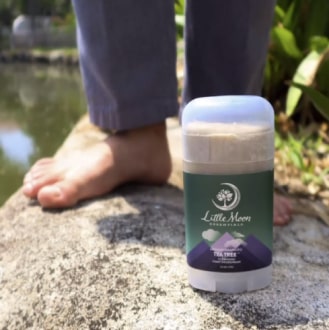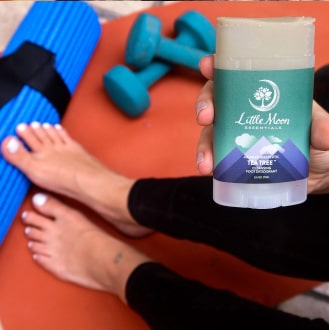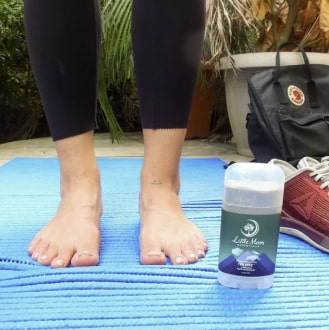 About Moon Essentials
Little Moon Essentials is a bath and body care brand that is devoted to providing high-quality, natural remedies for the body, mind, and soul through aromatherapy. We pride ourselves in our handcrafted process creating formulas with carefully sourced ingredients while using earth-friendly practices. All Little Moon Essentials products are cruelty-free, planet-friendly, and hand made by our team in the USA. Our mission is to provide natural remedies that will improve your physical and emotional well-being, so you can feel your best every day.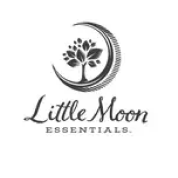 Designed In
Dania Beach, Florida
View full details
SUBHEADING
Recently viewed products