Tug O' War Toy
Reviews
Our reviews are verified for authenticity
This product is well made and extremely durable. My dog loves to play tug of war with it. Highly recommend.

Strong tug toy. My dog is 2-year-old and really enjoy playing with it

Very tough yet flexible rubber. Works great with my shepherd/husky rescue dog.

It's made of a flexible rubber, and I'm surprised it's tough enough that my Great Pyrenees has yet to tear it. However, she also has trouble gripping it, I think cause the rubber is smooth. If it had a thick, zigzag kind of end I think she could hold it better. She likes throwing it around and chewing on it!

This is a great toy for aggressive chewers that like to play tug-O-war.

This toy is sturdy! Great handle for the owner and good grip for dogs. It doesn't break down when pups chew it. Hours of fun!

I don't let my dog use this unsupervised since I am not sure that it is really a "chew toy". But he loves to carry it around, toss it, and play tug with it.

Our dogs don't show much interest in this. it does appear to be very durable and well-made

I was skeptical about this when I first got it. This is the longest lasting and toughest tug toy I've purchased. The handle makes it easy to grab and the other end is easy for the dog to grab. This is my dogs and my favorite toy.

I really like this product. It is very durable and the thickness is just right and stretches just the right amount. One of the best pit bull toys to have! My pit bull tour a lot of toys but this has held up for several months so far.

My dog loved this toy and we loved playing tug-a-war with him. But he is a chewer and loves to just sit and chew on toys. This one lasted maybe a couple of months but once he broke the handle he was easily able to bite off little chunks. I'd recommend it but just watch your pup a little closer if he is chewing on it.

My terrier/cattle dog mix loves to play tug-of-war. He usually chews up toys in a matter of days, but this one has lasted months with no damage.

Every toy we buy for our goldens have a life of minutes or maybe hours. This one they can't destroy! I will say it is one of the very few toys they can't destroy

Great amount of give so that the puppy thinks that they are getting somewhere. I can tell it's comfortable for them and it's definitely comfortable for me!

The pup is enjoying this one. Has not been to been able to tear it apart and has a good time pulling it with us.

My dog loves to play tug with this thing. I've had it for weeks and not a single sign of wear even though he sits down and chews hard on it. He is a semi-aggressive chewer I would say with strong jaws. Super fun tug toy with a great feel and durability. I highly recommend it.

This is one of the best toys I've found for my dog. My boy is a strong chewer and this toy has held up for a couple of weeks now, very durable. I recommend that you cut off the little piece (I think it's used to hang it up for in store display), as that can be easily ripped off by a pup. My dog loves this thing!

I have a very strong teether who tears most toys to shreds. Was in need of a strong pull toy and this was the perfect choice. Our 9 month old Keeshond uses this as a teether and loves to pull it. We've had the toy for about 2 months now and not a single puncture or tear. Very easy to wash clean with hot water. I'll be buying more toys from Sodapup in the future.

Really amazed at the quality of this product! My blue heeler usually tears toys up within days but this is still almost perfect after a month or so! Definitely a great tug-of-war toy and she even catches it and chases after it if I throw it... Very versatile and great price

My Pitbull has almost bitten through this on the first time playing with it. We played tug for a minute, he went off with it to chew on and get familiar with for two minutes. I took it put it away and now looking at it today it's almost bit through. It's also hard for him to get a good grip on this. Next time maybe I will try a canvas snake or the donuts tug toy. This one I guess will be a good chew toy at least.

Seems like a great item, but a bit heavy for my 16 lb puppy. maybe when she is full grown 22-25 lbs projected she will like it better

My pup loves it, it is easy for him to grip and easy for me to grip, great quality

Love this and love Soda pup for making it! Our very aggressive chewer can't get enough of his toy. Carries it around everywhere. Love that I can feel confident and secure that I will not wake up to this thing in pieces.

The SodaPup Pull Toy is absolutely the best thing I've purchased for our new puppy. She loves to play tug and lights up with enthusiasm whenever we get it out to play, which is multiple times a day. After more than a month of use and abuse the toy has resisted her sharp teeth and is totally intact with no tears or rips. For context, she's a now a four month old, fifteen pound mini Bernedoodle who can chew like champ, destroying rugs, shoes, or whatever is left in her path. Well done, SodaPup!

My dog has only had this for a day, and so far it's still in one piece. My only issue, and perhaps it's my fault for not paying attention but this toy is HUGE. My corgi could wear it as a necklace, so it's one that will be put away and only aloud out at certain times. Would love it if there was a smaller version available!

Our puppy is now, 42 pounds and lives ro chew anything. Anything! She usually demolishes everything in less than a day. She loves this tug toy and it looks like new after one and a half MONTHS! It's made of fairly soft rubber that stretches when she pulls and it still hasn't ripped or torn apart. It's a doggy miracle. Great product for dogs who love to chew and pull.

Our Silver Lab LOVES tug of war, but unfortunately he wants to play it with stuffed toys which get ripped, or ropes which easily unravel. THIS IS THE BEST EVER. Enough distance between my hand and his mouth to avoid and accidental nips (he's still a puppy) but not enough that he can pull my arm out if my socket easily

Seriously, this is the BEST tug toy! Our Rottie absolutely loves to tug. We have had this for almost 4 months, it gets used daily for at least 20 minutes each day. We highly highly recommend it!

It's a little slippery for my puppy to grab onto, but she's learning. It's great for playing in the snow and for redirecting when she nips and bites. Another great use I found by accident is using it as an extended handle on the leash since it works like a bungee leash and lessens the shock from a sudden pull!

I saw this toy on a list of best tug toys. I thought I would try even though 6 month old golden retriever is a power chewer. I am pleased to say it is an awesome toy. The dog has chewed holes in rope toys, many varieties and brands of stuffed/unstuffed toys, rubber bones, and plastic chew toys. The durability is a 10 for us. We have had it for a month and no wear or damage is visible. The toy is played with almost daily.

We rescued a smaller female rottie last September. Were told she was close to 3 years old . . . perfect for us. Turns out she has a lot more puppy in her than we bargained for This is her favorite toy she carries around and chews on, begging us to tug with her. Would highly recommend for chewers. Great toy!

Our dog really likes tug of war, and this is the best toy we've found for it. She can get a solid grip on one loop while I can do the same on the other end. It is stretchy enough to soften hard and sharp jerks, The design makes it much less likely my hand will be in range when she lunges for a new closer grip. After two + months it has no tears gouges or other signs of damage. It is her favorite

Fun toy that surprisingly is still in one piece!

My dog nephew LOVES this pull toy and it is indestructible!

My dog is a super chewer and will chew through any toy, while I was looking for one tough enough for her I came across this toy. So far it's passed my expectations and she has not been able to chew and tear through it! I absolutely recommend this if you has super chewers

This toy is sturdy! Great handle for the owner and good grip for dogs. It doesn't break down when pups chew it. Hours of fun!

This is solid rubber so I would not recommend you leave it on the floor for your dog to chew on all day. They can chew on it a little bit here and there. Works great for playing tug! My dog always wants to pull on the same part I'm going on. The size is absolutely perfect for moth small and big dogs. I think it's a great toy for playing tug. I would recommend it to friends. Make sure you remove the little rubber tag on the top before letting your dog play with it because they will chew it off and swallow it.

So my Doberman destroys toys. Like eats them. 4 months is his record of NOT destroying a toy!. Apparently he has some OCD. So I buy him another one. Dobermans are smart. So the new one only lasted a week. He was heart broken. I searched high and low and read review after review. Knew it had to be sturdy but smooth. Settled on this SodaPup pull tab tug. We have had it a little over a week and so far so good! He weighs 100lbs and pulls with my teens and it hasn't had a blow out. He chews on this sucker like crazy! Like, zones out on the couch. Toy at the back of his mouth. Chews on this toy. Not a single chunk out of it yet! I will update with a finally life span when he finally gets it, cuz he will!

I have raised dogs for over 30 years, and bought every toy imaginable. Soda Pup toys for what I have experienced with a new one year old German Shepherd over the last 2 months with this and other toys which I have ordered from the company, are incredible and seem to be indestructible!! My dog and I have pulled, stretched, twisted, fetched, tugged, she has chewed.....not a mark on them! I will only buy these toys!

My bull terrier LOVES this toy. Her second favorite game is tug and this is hands down the best tug toy I've ever bought. It's really springy so playing tug doesn't hurt my back and I can play with her longer. She's soooo happy. It's been 8 months and this toy is still going strong. I'm shocked, actually. I also found another great benefit: this toy is perfect for a teething puppy. I adopted a 4 month old bull terrier and he's a chewer. This is his favorite teething toy. The soft rubber is perfect to relieve the teething frustration without damaging the baby teeth. And he can't do any damage the toy, either. We have several sodapup toys, but this one in particular is shaped perfect for teething chewing.
Pull tab tug toy
Enjoy a great old game of tug-o-war with your best fur-buddy
Designed in mind for the two of you - with a pull toy dog handle and a side for you! This tug for dogs is sure to spark the fun! Meanwhile, it's made of absolutely safe and ultra-durable natural rubber compounds. So it's definitely PETstrong and there's no reason to worry if it will hurt your best friend somehow.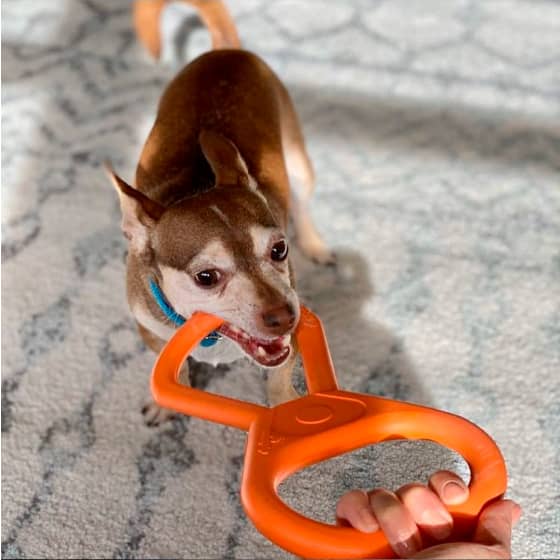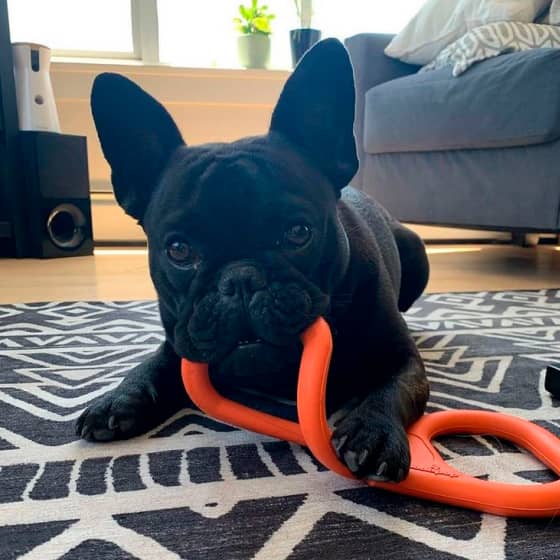 What's so special about it?
Enjoy a great old game of tug-o-war with your best fur-buddy with an animal & planet friendly pop top rubber tug toy. It's made of 100% safe materials widely accepted by veterinarians and with strict safety standards. It is sustainably harvested helping us reduce our carbon footprint. In fact, there's more to pay attention to.
Durable enough for the biggest tuggers
Veterinarian approved
One size fits all
Designed and manufactured in the USA
Easy to clean: dishwasher safe
Why is it a must-have for your dog?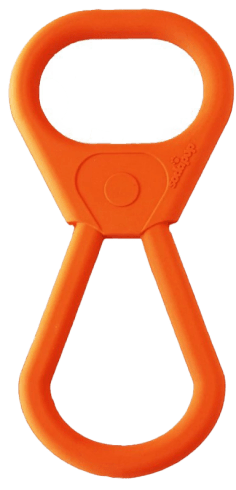 Suits dogs of all sizes
This pull tab tug toy is designed with an idea in mind that you don't need to worry whether it suits your dog perfectly: it suits dogs of all sizes. Specifications: 5" wide, 12" long, 8 oz.
Superior material
This pull tab tug toy is made from SodaPup's proprietary natural rubber compound which strikes the optimal balance between durability and chewiness.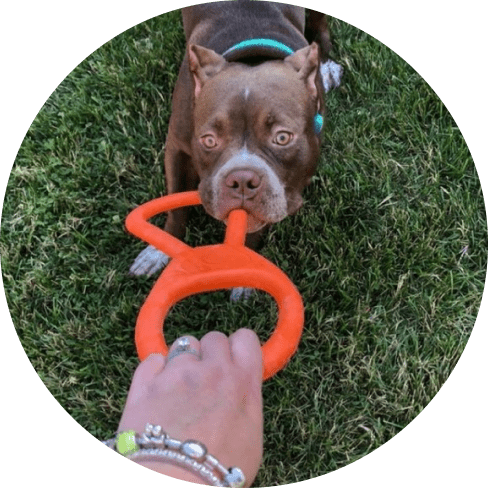 Lets you bond with your pet
Having fun together lets you and your dog make closer contact. So it's a chance for you to spend more time with your pet and make you both feel happy.
Replacement guarantee
We stand by our products and offer a 30 day replacement guarantee. But no dog toy is indestructible. Inspect them frequently and remove damaged ones.
About SodaPup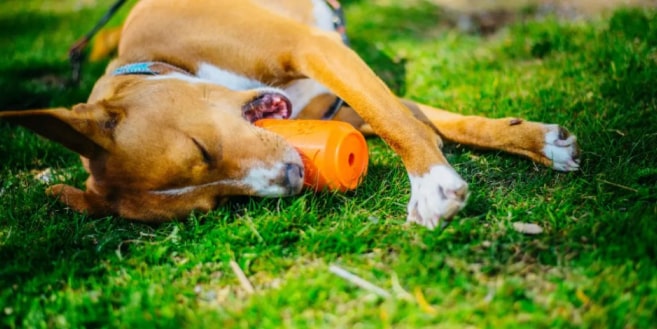 At SodaPup we specialize in creating fun and innovative dog toys for dogs that destroy everything! All of our products are made in the USA and are FDA compliant, meaning they are the safest dog toys in the market today. SodaPup has developed several brands, each with a unique theme that appeals to different consumer segments. Our brands are SodaPup, USA-K9, Industrial Dog, MuttsKickButt, Spotnik, and Harvard's Finest (our brand of grain-free dog treats). SodaPup gives back to the communities it serves, directing contributions to animal shelters as well as dog-related veterans organizations.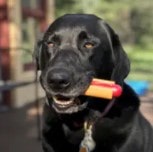 Designed In
Boulder, Colorado
Add an additional description to your products. You may set the same content for all products.
Ex: Shipping and return policies, size guides, and other common questions.
Or you may link a dynamic source to show product fields like vendor or custom product meta fields.
Ex: Ingredients, nutritional info, additional features and other unique per-product data.
View full details
SUBHEADING
Recently viewed products