White Bunny Sugar Cookie Dog Toy
Reviews
Our reviews are verified for authenticity
Finally, a toy that can last longer than and hour, week or month for that matter! I will definitely re-order!

It's a very interesting dog toy, but for aggressive chewers only lasts a few days

Good for a dog that actually plays with their toys. Not for a chewer.

These are my dog's favorite toys!

I'm sure these are awesome, but our puppy ate through them within days.

This bunny is holding up, but she has not been chewing it as much as the others. Seems to be made well.

Well made. My poodle likes this Easter rabbit.

My dogs (energetic pugs) love these toys. Only toys they can't chew holes in

He carries it around and sleeps with it. Still hasn't chewed...maybe he doesn't know…

Cute Easter bunny! Watch as soon as it gets a little hole the full needs to be cleaned out. But, even after that it is a great toy for a few more weeks.

Amazing. These have lasted longer than almost anything else we've tried, and the dogs still love them

My Great Pyrenees pup loves this toy! He's losing baby teeth currently and likes to gnaw on the ears with the gaps for comfort.

So cute. My pug loved it.

Durable and timely for Easter...everyone got one here!

I have a rat terrier. He destroys most toys in a day or less. He's had his rabbit for over 6 weeks and it's still intact. I bought two, one as a backup. It's still in the toy drawer! Yeah! Happy dog!

Dogs love to chew on this. Have to pull stuffing out after they get a hole in it however.

Durable and timely for Easter...everyone got one here!

It lasted about 10 minutes before my dog was pulling the stuffing out. Definitely not for aggressive chewers, though.

One of the few toys to survive more than a couple days of our dogs chewing, when most toys don't last an hour unless they are made by Kong. She likes it too, and will sometimes carry it with her to chew on before bed.

I have a Malshepoo that is half goat. She shreads her toys like a buzz saw. I've tried all manner of toys and provide bones. When she goes outside she finds pecans and eats them. This is a toy that she likes plus it is top quality! I HIGHLY RECOMMEND

The stuffing is the only downfall. As soon as my dog gets through the cloth there is stuffing all over the house, but hey that's what these things are for....to be torn up!

Finally, finally! Excellent toy!

I have a Boston terrier who loves stuffed toys, but they only last seconds. I have tried several different brands that claim to be for chewers and this is the best I've found so far. Best of all, there are no long strings like in some of those "sturdy chew proof toys" and there is minimal stuffing to pick up when she does break it open. Which she will. But in a couple of days instead of a couple of minutes. And for this price, it is totally worth it.

I have two pugs and they loved this rabbit so much I had to order one for each of them. These toys are the only toys my dogs don't destroy in a day. They love gnawing on them and they lash for a long time!!!

I love it, and my pup loves it too!

My Yorkie just absolutely loves this. It's the second one I bought because the other one came up missing. Now she found it and has two. If I could make a recommendation it would be to not put stuffing or a squeaker inside it. Once they chew through the stitching then you have to start watching carefully and pulling it out before they get into it. It could cause them to choke. For that I give 4 stars. It is still a great chew toy.

Funny story, I purchased this for an Easter gift for my husband. I know he wouldn't want cute little bunnies (his Easter basket was an ammo box) so I got something for the pups. We have Pomeranians and it's a fav! Good for loving chewers. Lasted 2 months. 100% would buy again. :)

We have a 4 -month-old boxer puppy who keeps searching out cloth items to chew. I thought this would be good for redirection. It's great! He loves it and it's holding up. It's only been a week but it still looks almost new despite all his chewing.

She jumps right into disemboweling animals, all of them! Once she "kills" the squeeker, she proceeds to unstuff the whole thing, which is easy to pick up afterwards. Typical Terrier behavior. We keep on getting new ones from time to time as a special treat for her. Well made, and lasts much longer than any cloth toys.

I've reordered this toy so many times for my pup. He LOVES this toy and takes a while(a week at most) to destroy. But make sure you monitor them as they rip it up. My Sheltie loves to hunt for the ripped up pieces and tried to swallow them. Just supervise the fun :) Will be making a subscription for this toy.

Our mini doxie loves it. A good alternative to a dog who likes to eat furniture.. its big and sturdy and a really good price...i wouldnt be mad if he destroyed it in 5 hours. Whatever it takes to not eat my furniture!

To be clear, if you have a tough chewer they WILL still tear right through this. it'll just last a couple days vs a couple minutes. I also notice that my dog will find the weak spots very quickly, and if I don't moderate that he'll tear through it in a day. Luckily the squeaker has so far always been in the tough section so it's easy to train him away from the less durable front end.

Our pup isn't so much a chewer as one that pulls at any seams or strings he can find. We've gotten supposedly tough toys and within minutes he's pulling stuffing out. We've tried to use more durable toys like rubber bones and such, and he's okay with them, but he really loves soft toys. This is the only one he hasn't yet been able to destroy, and we're going on two months with it. It's soft enough that we don't have a problem with throwing it in the house for him to chase.

Yes, she can destroy it, but it lasts longer than another stuffed toy and holds her attention. And it's REALLY reasonably priced for the amount of time & enjoyment she gets from it. She has zero interest in "indestructible" plastic and rubber type toys. Cloth toys sometimes are interesting to her, sometimes not. She loves to gum and gnaw on these toys. When she does rip the cloth open, she leaves the ripped bit aside, spreads out all the fluff, and then makes sure everyone in the family comes over to see her hard work.

I have two Yorkshires; big time chewers! These toys are wonderful for fetching and last forever if used correctly. These are not chew toys. If they are chewing them, they need to be supervised and they need to be taken away at some point. They are great for tossing around and light chewing. This product has been wonderful and I have purchased about 4 different animals and they've lasted forever. I don't think it's fair to give bad reviews on this product. It is a good product and is safe. If you need to pick indestuctible chew toys, go with giant wood/synthetic dog toy/sticks, deer or elk antlers or stick with the giant Kongs and sutff them with sweet potato slices.

My dog loves this!! This is her third. We still have pieces of the old bunnies in her toy box (which she still plays with). She played with it right away. She will inevitably destroy the ears first. This is great for "keep away" and tossing it into the other room for her to fetch. She carries it around looking to play. I gave 5 * for thickness and stretch, but those don't really fit this product but it still deserves high reviews. My dog is a medium chewers, so I gave 4* on durability as a super chewer would go through this quicker. It's well worth the money - cheaper and note durable than lots of other dog toys that get destroyed in seconds. Picture shows a new one versus a year old bunny.

This cute leather bunny toy was a great buy! Great value and very sturdy! When I first gave it to my dog who is a Pomeranian 8 pounds. He literally chewed it for at least 2 hours straight if not more. Normally he gets distracted by other toys or different things but his focus was only on this toy for at least 2 hours. I think it's safe to say that he loves it and so do I because after 2 hours of chewing non stop it's only torn up a little at the very ends. I think it will last for a long time and even if it doesn't it was so cheap and cute that I would just buy another one. It's a little big for my tiny 8 pound guy but that's okay he seems to like it still. I would say from end-to-end it's probably about half a foot long. And it's very firm so it would be good for bigger dogs that love to chew. There is a squeaker and it's not one of those loud annoying squeakers that are totally obnoxious, it's more of a low squeak if that makes any sense!
Fill your pup's Easter basket
Ideal for comforting and stimulating your dog through play
This Easter, treat your pup to a fluffy and sweet sugar cookie! Featuring a white rabbit design, the plush toy is designed to look like a bunny-shaped cookie.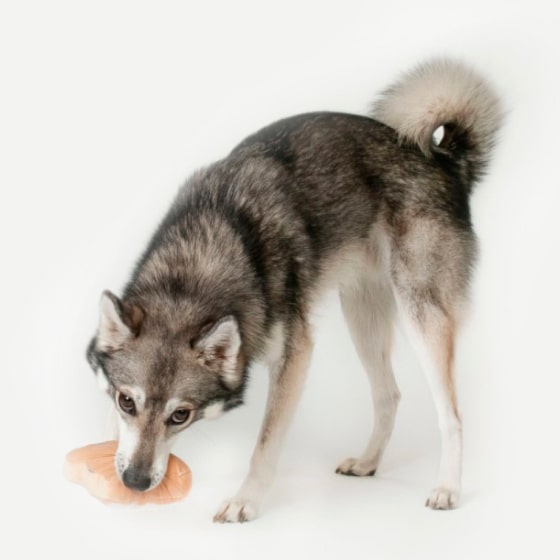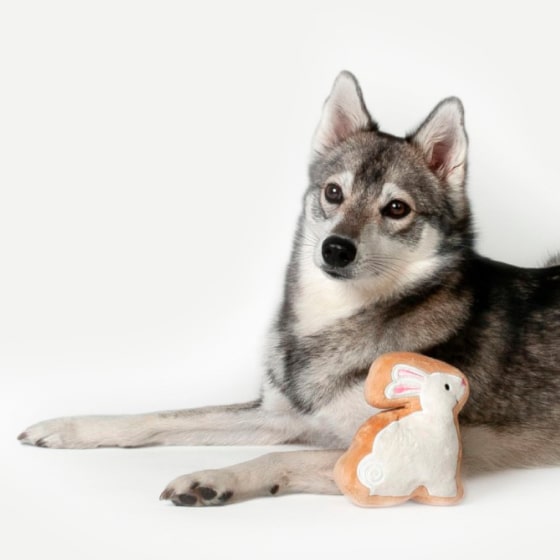 Your dog will absolutely adore this toy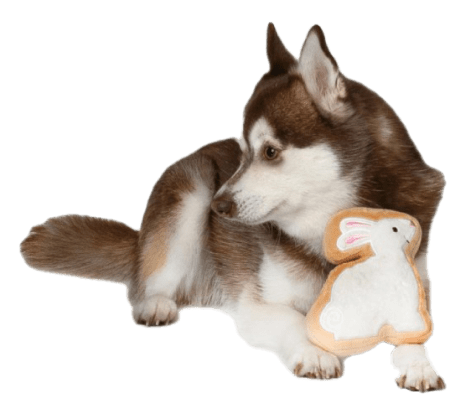 Constructed with soft yet durable fabric
This toy is a super fun addition to your dog's active lifestyle! Made of premium quality material. Durable, non-toxic, bite-resistant, safe, and washable.
A squeaker inside for added fun
This dog toy includes a round squeaker that emits a sound when pets bite, allowing your dog to chew it for reducing boredom to deliver more sound to keep your best friend entertained for hours.
Best easter design
Make Easter and every day after tons of fun for your pup! This dog toy can increase the interactive activities between you and your dog. Keep your dog entertained and safe during playtime with a high quality, detailed designed dog toy. Perfect for bonding and relationship building. Ideal gift for your companion!
About Midlee Designs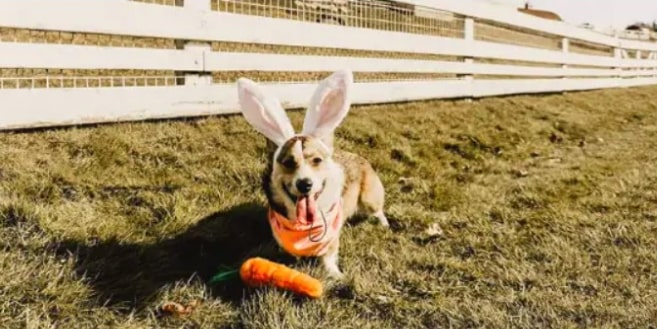 Midlee Designs started creating pet clothing because finding cute clothes for large dogs, like our German Shepherd, was extremely hard. Now we make clothing for pets of all sizes! We specialize in unique pet supplies for dogs, cats, and other pets. So, whether you're looking for the perfect outfit, toy, or pet health supplies, we've got it all!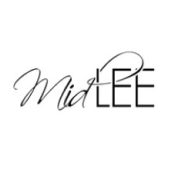 Designed In
Eau Claire, Wisconsin
View full details
White Bunny Sugar Cookie Dog Toy
SUBHEADING
Recently viewed products