Windmill Cat Toy
Reviews
Our reviews are verified for authenticity
My cat is still a little hesitant of this toy, but I believe he'll eventually love it. It's great quality and I do like that it comes with cat nip balls, bells and a flashing light to attract the cat. The suction works well; very strong. I currently have it stuck to my bedroom door and it's been stuck there for about 3 days now and hasn't fallen off yet.

I recommend this store! Good quality products as you described

It's a very interesting toy. It's made very well. It's of good quality. It's easy to install. It's also OK to put it on the wall. It's firm after installation. It won't shake. It won't fall off on the wall. It's fun to play with. It's flexible. It doesn't get stuck at all. It's a small toy that can be used for a long time.

Everything is cool we liked it! Two balls of Mint are probably included to put them in a toy.

The cat toy arrived in perfect condition. It's well made; arrived the day early ordering. Our cat was inquisitive immediately. I slowly spun it with her and she started doing the same. That was on the floor; and we currently have it on the refrigerator front. She spins it and is interested in the end compartments. She hasn't used the scratching piece yet; but she most likely will.

My cats really enjoy this interactive spinner. I've filled one with catnip balls and the other with treats (I purchased two). They really engage with both of them and keep them entertained. The suction seems to stay on hardwood & tile. Make sure the surface is clean and your really wet the suction cup and push the air out. They haven't used the bubble in the center yet but I'm sure if I spray a little catnip on there, they will be hooked! Great toy. Highly recommend.

My cat's favorite new toy. I was looking for something to incentivize her to go up on her perch and look out the window, because she wasn't interested before. Now that I put this toy up, I can't keep her off the perch.

This cat toy was bigger than expected (I liked it). The construction quality is very good. It will last a long time. My cats were instantly drawn to the catnip balls that you insert inside the outer edges, which made them want to play with it. The bells are a fun sound too. My only negative is that the suction didnt last long for the areas I placed it. The suction last less than a minute. I tried on the flat laminate flooring and the smooth baseboard (around the door).

I was excited to receive this cat toy for my three cats. At first, I had one that was semi-interested and the other two were not at all. However, after a few days, the other cats will now play with it in the middle of the night. I put it near their climbing structure and they seem to enjoy spinning it when they climb up or down. It is a toy that doesn't hold their attention for long, but it does keep getting played with as time goes on.

I just got this in the mail today because I love to spoil my kitties and it's super cute. I love the design of it. It's super smooth material and I love that it can suction to things so it doesn't have to sit in the middle of the floor. It comes with a bell, a light up ball and 2 catnip balls to put in the windmill. It's very easy to set up. Highly recommend! Even my dog loves it!

Just received this adorable cat toy, so far my kitten loves it. He's not old enough for the catnip balls yet but I will use them in the future. Super sturdy, suction cup is good, stuck it right to my dresser.

The cats were really curious about it. Jackson especially. I was really hoping it would stich to the wall but didn't expect it to. They tried playing with it on the wall and it fell. Now it is on the window by the cat tree but they haven't really been interested in it there. I plan to get a piece of plexiglass to put on the wall so I can stick it there for them. It would be nice if it came with a piece of plastic that is sticky on one side to stick to the wall so it would be more at cat level.

I have never seen a toy that fascinated my cat so much. It used to lose interest when it was used to play. I installed this toy on the wall in the room and placed a light ball. My cat always wanted to go. Fiddle with it

This toy is not very entertaining for our cats. Mind you, we have a Siamese kitten who is VERY curious and playful and still isn't really interested in this toy unless it's suction cupped to the floor. The suction on this is not very strong and releases with even the pressure of our tiny kitten pushing against it. The bells inside catch her attention, though, so she does revisit it when either of us push on it for our cats. Thankfully it was a very inexpensive purchase, so nothing lost from this.

My cat just loves this toy! We have it on the window by our bathtub and she's always running to spin the toy. She even rubs her head on the center to itch her head which she never does with other cat toys. I love the little blinking ball that goes inside one of the sides of the spinners. My cat will watch the lights blink and go back to spin the toy so they will blink again. Definitely keeps her interest and worth every penny! Highly recommend!

I have two cats and I bought two. I put him on the wall, on the floor, and near the cat's nest. I can play with my cat no matter where I go.

Item arrived quickly and was ready to use out of the box. Also included were the bells and catnip balls as well as a light up ball. I opted not to use the lighted ball as it was going in a window my cat only uses during daylight. So far she has shown interest, especially when I give it a spin on the window however she is yet to spin the toy on her own. Im sure it is only a matter of time, until then it give me enough entertainment spinning it as I walk past the window for me to purchase it again. Fun cat toy.

My only complaint would be that it was a tad difficult for me to remove the plastic to put the bells/catnip in, but that's only because the product is made well. If it didn't hold it tight the kittens would pull it out or it would fall out. Thankfully, that's not an issue. Once I got the bells/catnip inside and suctioned it to the are I wanted it in, my little kittens went nuts! My little Merida will sit there and play with it forever! She just loves this thing. I am going to get one for my daughter's cat too. There was also no damage to the package. I'm quite pleased overall.

it arrives at my expected time. The shipping is fast and the toys are of good quality

When I don't have time to interact with my cat, its presence can make the cat happy alone

I was somewhat disappointed in the size of the toy. Advertisement said for CATS (not kittens), but the toy is quite small. I have difficulty finding toys for bigger cats. However, the toy is very well made, looks great, works well and is attractive. From the time of ordering to shipping/receiving was very short and much appreciated.

This toy attracts my cat a lot. He spends a lot of time playing or staying by this toy every day . It seems that my cat loved the toy very much. Good news is I don't need to worry about my pillows, cups and laptop too much as those things are losing his attention. All in all, a good cat toy.

Our kitten is so cute and makes us laugh watching her play with this toy. As with any toys we get for her, we have to engage her to it first and the flashing light helps to get her attention much faster! The suction works great on the kitchen floor also! Plus the toddler plays with it (when we don't have the cat nip in it and supervised obviously lol). Super fun toy for the kitten and little one!

Our cats love this. It sticks like glue to a wooden bookshelf and they can spin at it for a long time before they finally get it off.

Arrived as scheduled and is ready to go right out of the box. Included are two each bells and catnip balls to enhance your cats play time. My cats investigated it and gave it a test spin. I think once they get used to the new toy it will see more action. Size is right, does not take up too much room.

All four of my cats like this toy. Samson loves it! I have tried to stick it several different surfaces and it will not maintain suction. My cats don't seem to care about that feature so I stopped worrying about it. My cats like to wrestle, bunny kick, and gnaw on this toy. It has withstood their rough play quite well. The catnip balls would be more accurately described as pellets. They are the same size as a rabbit (poo) pellet. The catnip is a good size for the toy and 4 of 4 cats agree that it's of good quality. The flashing ball is very bright. My cats prefer to play with it outside of the spinner toy. I haven't used the bells because my cats aren't all fans of bells. Overall, this is a fun kitty toy and I recommend it.

My 17 year old cat Loki loves it! I just suctioned it to my kindle so he could play with it on the bed.

My product arrived quicker than I expected, in great condition. It is really cute and sticks to my glass door without falling off. Not only is it great entertainment for cats but my 18 month old grandson loves it to!! Will buy more for other areas of my home.

My cats loved it. We have it stuck to a window, they hit it to make it spin. One of my cats rubs against the ball. Lots of entertainment.

My cats absolutely love this toy, keeps them occupied for hours!The cat likes it very much. This toy has three transparent balls. Put some of your cat's favorite food in it, or a bell, and let him play by himself. You can help your cat groom her hair, massage her head, etc. It's really fun.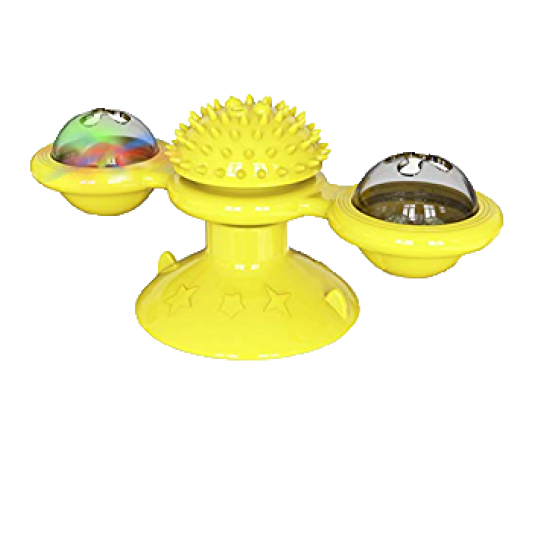 Spin it. Scratch it. Bite it.
Cats need fun and attention sometimes. They don't just lie around all day. Give the gift of interactive engagement, anytime and anywhere with this easy-to-install Windmill Cat Toy. Featuring a spiky center ball made of TPR rubber (it's perfect for biting) and two spinning globes, this cat toy can keep your kitty entertained for hours.
Stick it anywhere
A rubber-suction base makes this toy a fun-anywhere thing. Stick it to tile, glass, plastic, coated wood -- any smooth surface -- for your cat's enjoyment.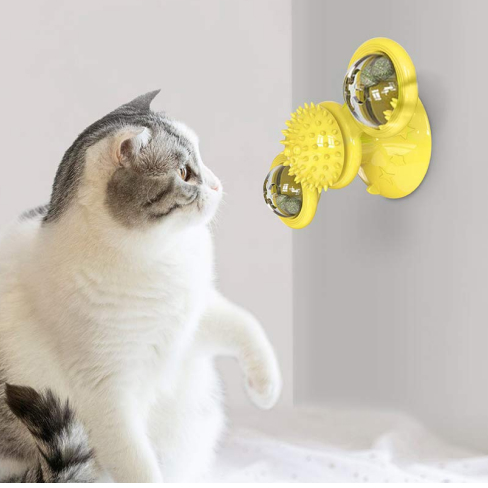 Change it up
Two ball-shaped chambers on the windmill toy allow you to open up to fill with catnip, mint balls, or food even. Your order comes with two catnip light balls and two small jingly balls.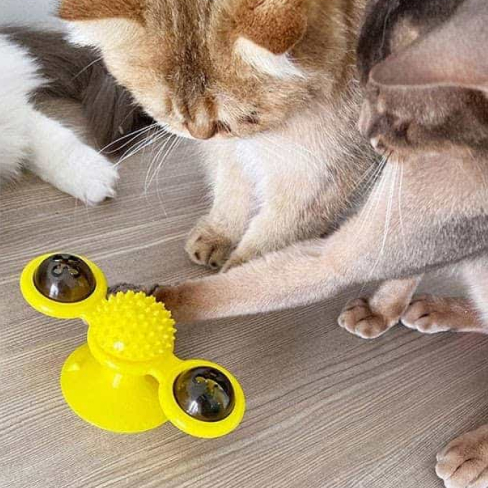 So many ways to use
Our spinning toy is more than a windmill for your cat to stare at in wonder. Its interactive nature and spiky center surface make it a great tool as well for comfort and for developing motor and visual skills. With our Windmill Cat Toy, your kitty can:
Massage its face or body against it
Brush teeth against (just add toothpaste)
Scratch or chew the spikes on it for stress relief
Spin the windmill globes to improve motor skills
View full details
SUBHEADING
Recently viewed products