Zeus Verbena Lime Natural Deodorant Spray
Reviews
Our reviews are verified for authenticity
Love the smell, it's all natural and it doesn't last long on so you have to re-apply but I would definitely re-buy.

These are high quality products. I really like the lime verbena scent as it is lighter and fresher that some of the other products I have tried. I had a question and they responded promptly and I am totally satisfied. I will purchase again!!

Its smells good, though a bit unorthodox. No skin irritation so far, which is my problem with all chemical deodorants. Since Burt's bees stopped making their spray deodorant, this is the first one I've found that smells good and doesn't seem to irritate my skin.

I use this after working out during the middle of the day works really well Scent is awesome not too strong. Not sure if it would last all day though I sweat a lot and I don't use it that way.

I love Zeus''s products so much their smells and textures really work and their service is really commendable! My initial bottle had been dented along with its original box which had also been re taped, but They replaced the bottle for bottle for me which came rather promptly might I also add. I am very happy with the purchase and interaction. THANK YOU SO MUCH!

I love this stuff! I have held off a bit so I could run this stuff through the paces. I have to say that it's pretty darn nice! For me, a real man who wears work boots to actually work in them and not curl my mustache in front of other dudes, this stuff held up pretty darn good! For hard days I still go with stick deodorant but when I am hitting the town with my ladies, I travel with a flock on blind Nuns, I break out the Zeus deodorant and get myself smelling right!

I have been seeking a new scent of deodorant, and got it in my head that I wanted lime. I looked in stores to no avail. So I searched Amazon, and found this. One of my favorite drinks is a coconut-lime daquiri, which smells amazing, so I figured this would as well. I was not wrong! This is hands-down the best scent I have ever smelled...or smelt for that matter! I was a bit apprehensive about the price, but with each pit requiring only two sprays per use for a whole day; it's only down to just below the top of the label after almost two weeks.
Freshen up (naturally)
Say goodbye to aluminum and irritant traditionally found in deodorants with the natural goodness of the Zeus Verbena Lime Natural Deodorant Spray.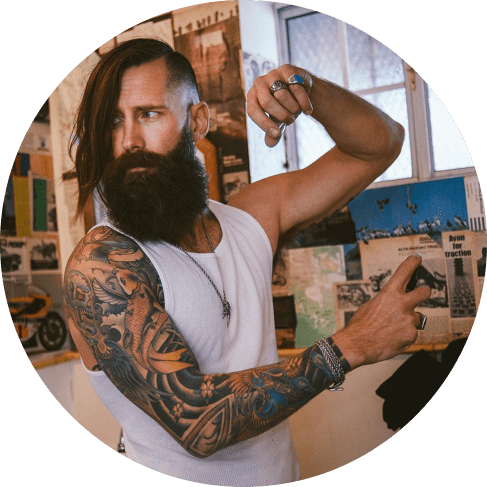 The lasting freshness you deserve
No smell, no foul
Block out natural sweat or armpit odors naturally with the powerful performance of our stay-fresh body deodorizer.
It's all good
Our spray is crafted from safflower, glycerin, and the special Zeus essential oil blend.
None of the bad stuff
Our formulation is free of sulfates, aluminum, parabens, mineral oil, and petrochemicals for clean, real ingredients.
Just spray to be fresh
To use, spray one to two times directly onto clean and dry skin and under the armpits.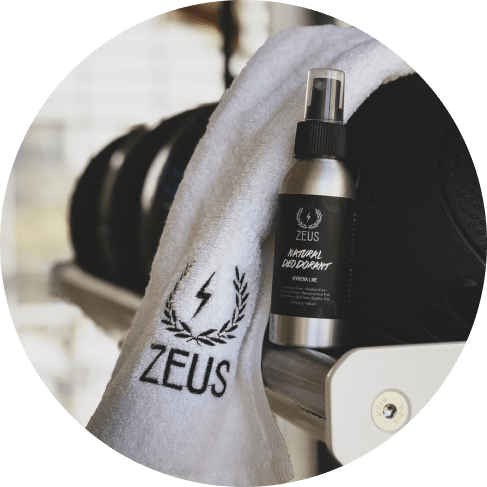 Inspired by effortless style
Founded in 2013, Zeus is a Southern-California-based men's lifestyle brand for grooming that uses ingredients that are as natural and organic as possible -- so every guy can feel refreshed (and not burdened). From styling to cleaning and shaving, Zeus has it all.
About Zeus Beard
In 2013, we started Zeus humbly with a beard oil, a beard brush, and a mission: create high-quality products for beardsmen that work. We are inspired by the outdoor lifestyle and surf culture, so our products are built to keep your beard looking good no matter where your adventures take you. We formulate our beard care products with natural ingredients, incorporating organic and local ingredients whenever possible. Committed to our environment as well as the safety of our bearded brotherhood, we never test on animals and our products are paraben-free and sulfate-free. Each product is put through extensive testing by our beard community. In addition to providing stellar grooming tools for beardsmen, we have introduced products designed to deliver effortless style, whether you have a beard or not, because we're here to help all guys look fresh. From pomades to dopp bags, we've got you covered.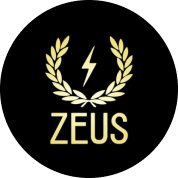 Designed In
Costa Mesa, California
Add an additional description to your products. You may set the same content for all products.
Ex: Shipping and return policies, size guides, and other common questions.
Or you may link a dynamic source to show product fields like vendor or custom product meta fields.
Ex: Ingredients, nutritional info, additional features and other unique per-product data.
View full details
Zeus Verbena Lime Natural Deodorant Spray
SUBHEADING
Recently viewed products